Says Lagos, Ogun must work together
By Daud Olatunji
ABEOKUTA—VICE President, Prof Yemi Osinbajo, yesterday, disclosed that the Federal Government has so far shared N1.9 trillion among states as support from Paris Club Refund.
He said the sum was spent to support state governments in areas such as Anchor Borrowers programme, social investment and budget support.
He also expressed worry over failure of Lagos and Ogun state governments to collaborate with each other  in a bid to achieve regional economic integration.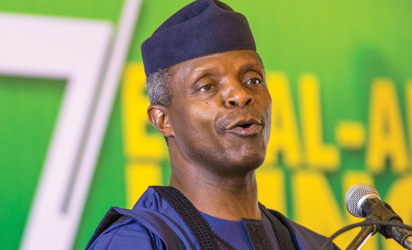 Osinbajo noted that the two states needed to take advantage of their proximity to each other, and explore their areas of economic competitive advantage for mutual benefits.
The vice-president while speaking at the fourth edition of a two-day Ogun State Investors' Forum with the theme: "Consolidating the gains, accelerating growth" held at June 12 Cultural Centre, Abeokuta,yesterday, noted  that on account of proximity, Lagos and Ogun states, and by extension, Republic of Benin ought to collaborate with one another for the benefit of economic integration.
Osinbajo in his remarks, therefore, called on the two neighbouring state governments to work together for economic growth and prosperity of both states.
Osinbajo said he recently attended a meeting on economic cooperation between Kano and Lagos, thus advocating more of such collaboration among states.
He said: "There is a proximity between and among Lagos and  Ogun states as well as Republic of Benin. Apart from the industrial hub of the country, Ogun State ought to be a business preference of choice for anybody wishing to do business in Nigeria.
"There is no reason Ogun and Lagos states should not work together for economic growth. There must be sub-region meeting between Lagos and Ogun states and Repubkic of Benin."
Speaking on the efforts of the Federal Government towards promoting economy, the   Vice President noted that the Federal government has so far supported states government with a total sum of N1.91 trillion to cover three areas,  such areas as Anchor Borrowers programme, social investment and budget support.
He, however, applauded the giant leap the Ogun State government has recorded in the last 18 months, especially in Agricultural sector.
"I am here to encourage you here in Ogun State. There is no room to relent. I am here to inspire your ambition. I want your 5th index place of doing business to become first.
"So, in the last 18 months, Ogun State has made a giant leap in Agriculture. You have MITROS rice, land acquisition, business infrastructure, road building and upgrade for the industrialisation of the state", said Osibajo.
Osinbajo said the Federal Government remained irrevocably committed to addressing the nation's infrastructural deficit   and fighting graft.
The keynote speaker at the event, a former president of Mexico, Felipe Calderon, who spoke on 'Competitiveness and growth: A view from Mexico' noted that for any country to experience economic growth and development it must invest in people and infrastructure.
He advised Nigerian leadership to go back to the drawing board to stimulate manufacturing and exporting of products instead of relying on importation of everything.
Calderon also urged government   to increase public funding, and expand its scope of social investment programmes to get to poorest and vulnerable people in the society.
When we last gathered here for this forum two years ago, Nigeria was sleeping in the worst recession in decades after a dramatic fall in the price of crude oil; dollar shortage hit busineses, inflation rose and unrest in the Niger Delta drove down our oil output.
Between then and now, we have launched and implemented a comprehensive economy recovery and growth plan, we pursued peace in the Niger Delta, we focused on improving our business environment, we scaled up our investment in agriculture and infrastructure and aggressively worked at expanding Nigeria revenue base.
The ultimate goal   the diversification of the economy, away from the kind of unhealthy dependence on oil and gas revenues that led us to where we found ourselves.
Perhaps most importantly, we have reversed the ground corruption in public finance and impunity which attended the conduct of public business especially in the past five years.