Abuja – The Federal Government says it is taking measures to control certain drugs, having discovered that most suicide bombings and other violent crimes are carried out under the influence of drugs.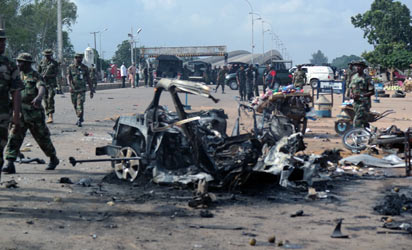 Rear Adm. Yaminu Musa, the Coordinator, Counter Terrorism Centre, Office of the National Security Adviser (ONSA), disclosed this on Monday while declaring open a five-day conference on "National Chemical Security''.
Musa did not name those drugs to be controlled.
He said: "The National Action Plan on Preventing and Countering Violent Extremism is aimed at identifying early warning signs of violent extremism, preempt and prevent it from manifesting.
"One of such acts of violent extremism is the suicide-bombing phenomenon, a tactic being exploited by the Boko Haram Terrorist, especially in the North Eastern part of the Country.
"In response to this ugly phenomenon, we have extended our counter IED efforts beyond control of explosives and precursor materials to include the human aspect of the threat, which is the motivational factor.
"We have identified that most of these violent crimes, such as person borne IEDs, are perpetrated under the influence of drugs.''
He said to curtail the surge in drug related violent extremism and other, the centre had included certain drugs often abused and their various "precursors as chemicals of concerns''.
The coordinator said those drugs required strict control measures for their importation, manufacture, distribution, storage and usage.
On use of chemicals, Musa said the ONSA had identified the prevalent types of explosives, accessories, fertilizers and precursor chemicals used in the preparation of the IEDs.
He said that this was after investigation carried out over the years on series of Improvised Explosives Devices (IED) incidents in urban terrorism and insurgency theatre of operations.
"IED attacks have become an integral part the Boko Haram Terrorist tactics.
"Over the years, nations faced with the threats and dual use of chemical substances and precursor for illicit and criminal activities, have evolved strategies to mitigate, pre-empt and respond to such threats.
"Similarly in Nigeria, we have also included counter IED initiatives in our National Counter Terrorism Strategy (NACTEST).
"The focus of this strategy is to attack the criminal network of sourcing for the materials used in preparing the IEDs, including the various dual use chemicals, explosives/accessories and specific blends of fertilizers,'' he said.
Musa said that ONSA was already working with relevant Ministries, Departments and Agencies (MDAs) to emplace strategic measures to control the importation, transportation, storage and use of these sensitive substances.
According to him, the aim is to take those drugs out of the reach of criminal elements.
He identified the MDAs as the National Agency for Food and Drug Administration and Control (NAFDAC), Ministry of Mines and Steel Development and Federal Ministry of Agriculture and Rural Development.
He said that the training conference, which draws participants from security, government and private sectors was to ensure best practices regarding chemical security.
Speaking, Mr David Centofante of the US Federal Bureau of Investigation (FBI), stressed the need for collective effort to control the use of chemicals.
Centofante said that this was necessary to prevent such substances from getting into the hands of criminal elements and terrorists.
He said there was need for shared responsibility in chemical security and in dealing with the threats of chemical weapons which he said were not peculiar to any nation.
During the five-day conference, there will be presentations on various aspects of transportation security, physical protection of chemical installations and chemical security vulnerability.
The theme of the conference is "Towards a Secured Importation, Distribution, Storage and Use of Chemicals in Nigeria". (NAN)