…As hundreds of APC members defect to PDP
By Chinedu Adonu & Dennis Agbo
ENUGU—THE People of Ezeagu Local Government Area yesterday,  unanimously endorsed Governor Ifeanyi Ugwuanyi of Enugu State for re-election in 2019, saying he has delivered on his campaign promises and considered the people of the area in political appointments.
This came as traders from Nkanu land under the auspices of Nkanu Traders Association also declared their support for the governor in 2019, stressing that they are behind him till 2023.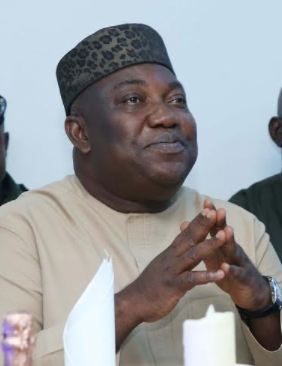 The people of Ezeagu gave the endorsement during a well attended civic reception organized in honour of Gov. Ugwuanyi by the Gburugburu Movement Ezeagu held at Aguogbuowa, headquarters of the council area.
The people said they were highly impressed with the development strides of the governor and his uncommon leadership style which have entrenched peace and good governance in the council area in particular and the state in general.
The  event at Ezeagu LGA also witnessed the defection of hundreds of All Progressives Congress, APC members to the Peoples Democratic Party, PDP.
The defecting members said they were tired of their former party and opposition politics in the state, hence their conviction for the action.
According to Gen. Okafor, leader of the group, "We were at the reception for Governor Ugwuanyi to see that we have fully converted to the PDP and for him to carry us along."
Moving the motion for the endorsement of Gov. Ugwuanyi for second term, which was seconded by a businessman, Dr. Ozor Nweke, a Professor of Media and Communication Studies, Ike Ndolo said: "The people of Ezeagu have every reason to support the Governor for re-election. Apart from the development projects, he chose a daughter of Ezeagu, Mrs. Cecilia Ezeilo as his deputy and appointed their son, Dr. Festus Uzor as Chief of Staff."
In her remarks, the deputy governor expressed delight that she is working cordially with the governor, who she described as "a peaceful leader and the governor for Enugu State, not for PDP alone."
Mrs. Ezeilo hailed Gov. Ugwuanyi's grassroots development initiatives, saying"the governor has ensured that at least one project is executed in every community in the state."
Chairman of the reception planning committee, Prof Chike Anibeze said the reception was organised by the entire 43 communities of the local government for Ugwuanyi's magnanimity in allocation of human and physical resources in the state.