At least 14 people were killed and 50 others wounded when people were celebrating Afghan New Year, Authorities said.
The incident occurred when a blast ripped through a sports stadium in Afghanistan's Southern Province of Helmand on Friday.
The incident occurred at the evening when a suspected suicide car bombing struck Ghazi Mohammad Ayoub Stadium in the province's capital city Lashkar Gah, provincial government spokesperson Omar Zwak told Xinhua.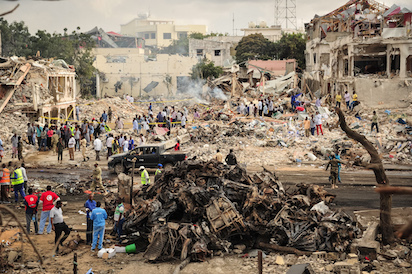 "The casualties were shifted by ambulances and police vehicles. About 14 killed and 50 wounded have been admitted in city hospitals so far as we know,'' a health official told Xinhua, citing initial information.
The number of casualties was likely to rise, he noted.
"The Afghan year 1397 started on Wednesday, March 21. A local wrestling competition was going on to mark the day when the attack occurred,'' he said, adding those among the casualties were also police personnel.
Security forces have cordoned off the area for precautionary measures.
No group has claimed responsibility for the attack yet. On Wednesday, 31 people were killed and 65 injured after an Islamic State suicide bomber attacked New Year fans in Kabul.
Helmand, notorious for poppy growing, is also a known Taliban stronghold.
NAN