BY JIMITOTA ONOYUME
WARRI—KOKO, headquarters of Warri North Local Government Area was agog last Friday when Iwerre College Old Students Association, ICOSA, donated chairs and tables valued at about N700,000 to the school.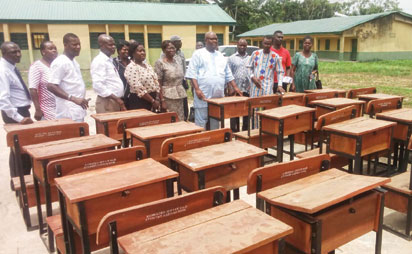 An elated Principal of the school, Mrs Iyabo Enukpere  in her address said seats were part of the major challenge in the school, noting that at a time students were sitting on bare floor, a situation that forced her to reach out to several companies and organisations for support.
She thanked the old students for coming back to give to their secondary school, urging them to do more.
Mrs Enukpere also enjoined  them to help press for more teachers to be posted to the school, stressing that  the school at the moment, needed  teachers in some science subject areas and Government.
"We appreciate what you have done for us. I admitted students into SS1 at a time there were no seats. I went to Total and several other companies around to beg for seats. To crown it all, you have given us seats, we are grateful.
"We will always ask for more.   Government is doing its best. We will want you to support the efforts of government to sustain the glory of the school. We don't have enough teaching staff. Until government closes this gap, arrangement can be made for teachers to assist the school," she said
Interim National President of the body, Mr. Eyinsan Esiegbuya during the presentation assured that the old students would continue to support the growth of the school and appealed to old students yet to identify with the body to come forward.
He said the school turned out its first graduates in 1973/74, adding that as old students, they were impressed with the sanitary condition of the school when they came in for the donation.
Esiegbuya appealed to the students to shun any temptation to indulge in acts of cultism and urged them to take their studies seriously.
He further promised that the old students would take steps to see how they would redress challenges of teaching staff and related problems in the school.
He said the old students were already working to ensure that the golden jubilee of the school by 2020 would be well celebrated.
"We understand the current challenges with shortages of academic staff in key subjects like mathematics and sciences thereby leaving the school laboratory and equipment to moths, cobwebs and dust with dire impacts on student academic performance. We shall strive to draw  government attention to the school in these areas that need government's attention," he said.
The students later did a special dance for the old students, thanking them for their support.