By Emmanuel Aziken, Political Editor
The principal officers of the two chambers of National Assembly, led by Senate President Bukola Saraki and Speaker Yakubu Dogara of the House of Representatives, are meeting today to finalise plans to override President Muhammadu Buhari's veto on the Electoral Act Amendment Bill.
The separate meetings followed a joint declaration by the two presiding officers to move against the President's veto of the amendment bill that puts presidential elections as the last in a three-phase general election.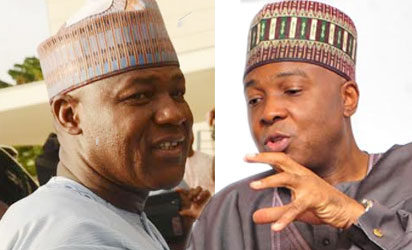 Vanguard learned, yesterday, that the Senate has already generated the required number of 73 signatures to override a presidential veto. The House, Vanguard learned, is to compile its signatures this week. Today's meeting is expected to set the tone for the generation of the signatures.
The National Assembly has overridden the presidential veto on only two occasions; in 2000 on Niger Delta Development Commission, NDDC, Bill and in 2007 on the Order of Precedence Bill.
The constitution provides that for the President's veto to be set aside, Two-thirds of the members of each House would again pass the bill for a second time. Two-thirds of the members of the Senate is 72, while that of the house is 240.
It was learned, yesterday, that the bill had again been taken for gazetting, preparatory for the fresh passage of the amendment bill.
It is expected that the bill would again go through first, second and a third reading and passed, following which the assent of the President would not be required.
The most controversial amendment in the Electoral Act (Amendment Bill) stipulates that the general election should be conducted in three phases, with the National Assembly elections coming first, followed by the governorship/state legislative houses election and the presidential election coming last.
Senator Saraki and Speaker Dogara in an unprecedented joint statement on their resolve to override the veto had at the weekend, dismissed insinuations of a division between the two of them and the two houses.
They said:  "The Senate President and the Speaker, as heads of the two chambers of the National Assembly and representing the views of their colleagues, will want everybody to know that they are on the same page on what is the appropriate reaction to the President's withholding of assent on the Electoral Act amendment bill.
"There is no disagreement between the two chambers as well as their presiding officers. The leadership of the two chambers constantly hold discussions and are in agreement on what to do, how to do it, when to do it and why it must be done.
"The issue at stake is not personal. It is about deepening democracy. It is about improving our democracy and the National Assembly is on firm constitutional and legal grounds to amend the law  as well as take decisions in the manner they have been responding.
" We see that story and the insinuations contained in it as mere distraction and unnecessary misrepresentation aimed at creating division in the Federal Legislature. The Senate President, Speaker and their colleagues urge members of the public to discountenance the report.''
Subscribe for latest Videos