Masterminding online smear campaign
By Joseph Erunke and Dennis Agbo
The Deputy President of the Senate, Senator Ike Ekweremadu, has accused a former Chief Judge of Enugu State, and a senior aide of President Muhammadu Buhari of being the masterminds of an online smear campaign directed against him.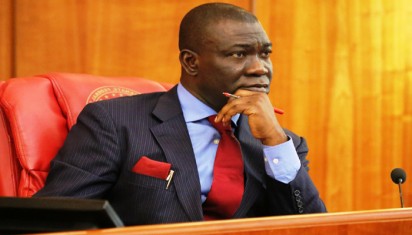 In a statement "This Too Shall Pass", Ekweremadu said:
"I would have continued to ignore them, but for the concern of my well-wishers. Therefore, the public may wish to know as follows:
According to him the former Chief Judge of Enugu State, in his capacity as the Chief Judge together with a lawyer and in connivance with some politicians, broke into the Probate Registry, Enugu, took away my will, and left behind a photocopy.
"They copied the properties listed in the will and added many imaginary properties and started churning out baseless petitions to government agencies and officials.
"In their petition to the Economic and Financial Crimes Commission, for instance, they claimed, in a demonstration of gross ignorance, that I was given money by the Federal Government to develop the South East geopolitical zone, but that I used it to purchase 32 properties.
"They sent similar petitions to Mr. President, the Vice President, Senate President, Attorney-General of the Federation, Independent Corrupt Practices and Other Related Offences Commission, Code of Conduct Bureau, Director-General of the Department of State Security, Inspector-General of Police, Commissioner of Police (Enugu), among others.
"(Chief Judge) has also, in several other petitions, attacked myself and my family. He also, at some point, accused me of killing several people, which the office of the Inspector-General of Police investigated; and probably, he will soon face appropriate charges bordering on false information.
"Let me, therefore, call on all those, who are concerned about this smear campaign, not to worry. This too shall pass. History will vindicate the just and the wicked will never go unpunished".