By Rotimi Ojomoyela
AdO-Ekiti—GOVERNOR Ayodele Fayose of Ekiti State, yesterday, declared that his performance would make the victory of his Deputy, Prof Kolapo Olusola an easy accomplishment in the July 14 governorship election.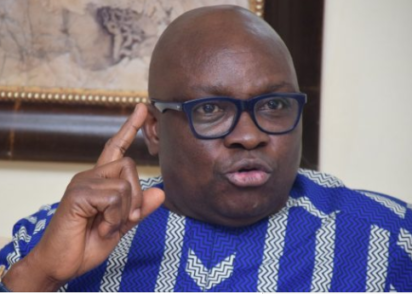 The governor also said his administration has achieved so much in the education sector owing to the fact that all critical stakeholders in the sector are in collaboration with government.
He, however, assured that Olusola will not deviate from the path he has instituted in the sector.
He said this in Ado Ekiti during an interaction with stakeholders in the education sector, which included Parents-Teachers' Association, teachers and the Ministry of education.
Fayose, who officially presented Olusola to the stakeholders said: "Olusola's victory will be easiest in the country's political history because I have not deviated from the ideals people considered to bring me in 2014.
"Ekiti was ranked 35th in NECO when I came in 2014 but I have been able to bring the result to the first position in 2016 and 2017 through series of motivations for teachers.
"But let me say this, your victory is not in the hands of politicians, I have even told those around me. It is in the hands of Ekiti people, I mean the electorate.
"Ekiti people are very resolute people. If they say they don't want you, that is the end. If they like you, you will see it. If they hate you, they won't hide it, so you can see that they like me with the way they have been relating to this government."
"You will see how they will help you on the day of the election. You will see how they will vote and stand by their votes", Fayose assured his deputy.
Earlier, the PTA Chairman in Ekiti State,  Mr  Samuel Adeola Osadare, promised that all the stakeholders will continue to partner with government to make Ekiti the cynosure of all eyes in the education sector.