By Nwafor Sunday
Experts from various multinational organizations have called on business owners and organizations in Nigeria to key into Net Promoter Score (NPS), one of the fastest growing services rendered by mSurvey, an internationally recognized mobile first consumer feedback platform recently launched in  Nigeria to foster customer relationship and improve the growth of businesses in the country.
According to Dr. Kenfield Griffith PhD, the Chief Executive Officer and Co-founder of mSurvey, "West Africa is an extremely important market for us to expand into, and we are excited to be bringing mSurvey products, as well as the Net Promoter Score to Nigeria.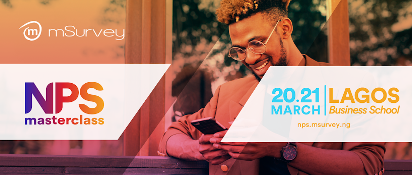 "From initial conversations with businesses from corporate to SME-size here, it is clear that there is growing trend in the country to add value to the bottom-line through improved and more granular understanding of customers, powered by tech and mobile", Dr. Kenfield said.
Speaking at the first NPS Masterclass organized by mSurvey on Wednesday in Lagos Business School, Ajah, Lagos state, seven men panelists reeled out, segmentation, cultural identification, fundamental relationships, demographic and psychographic characteristics etc as major templates used in customer identification.
Among the panelists include: Ken Okwero; Head of Strategy, SafariCom, Odunayo Sanya; General Manager Planning and Customer Management MTN Nigeria, Ken Kuguru; Group CEO Java House,  Funke Shobanjo; Head of Organisational Transformation; FBN Quest, Claude Grunitzky; Founder Trace and True Africa, Kenfield Griffith,  CEO mSurvey and Safaricom, and Stella Kamau; Group Head, Customer Experience ABM Group.
On segmentation, the panelists agreed that gender remains the major factor to be considered by every organization, in view to delivering quality services to customers. They equally submitted that cultural differences and fundamental relationships are factors that determine the type of services to be delivered after gender identification.
Speaking on the rationale behind NPS services, Claude Grunitzky said, "Since media is in crisis and fake news is everywhere, we have resorted to our social media strength to ask and evaluate our customer's feedback"
"In NPS, real-time feedback is very important; it's the way to go. Real-time has transformed so many business organizations. In NPS you see the reactions and complains of your clients and find immediate solutions to the problems", he finally said.
Fielding questions on customer-carrier-detractors, Kenfield Griffin said that his organization will do everything possible to woo back every customer and manage them properly. But on a contrary opinion the Group Head, Customer Experience ABM Group, Stella Kamau opined that her organization is more concerned in their super-customers and pay utmost attention to them.
Speaking further she said that carrier detractors sometimes should be ignored because they are cancerous. In her words, "There are some carrier detractors that are in for it.
No matter what you do, they will never appreciate your organization. They are out to ruin the image of the organization but we pay great attention to them because they are cancerous. But it's better sometimes to ignore them", she said.