N-Power: Drama in Ekiti as pro-Buhari, Fayose's rallies shut down state capital
…beneficiaries urge Buhari to give permanent employment instead of temporary relief in N-Power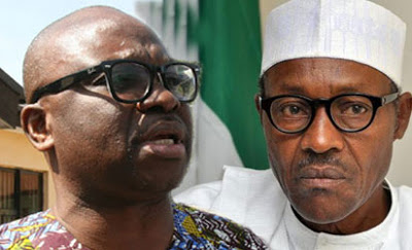 The forthcoming July 14 governorship poll in Ekiti State has taken an interesting dimension as many beneficiaries of the Federal Government N-power scheme in Ekiti yesterday campaigned for the Deputy Governor Olusola Kolapo Eleka ahead of the election.
The governor had few months ago promised many of the N-Power beneficiaries in the state permanent jobs and they anxiously expect fullfilment of it.
It was a drama yesterday as two factions of the N-Power beneficiaries, those for President Buhari and others for Governor Fayose and his deputy, Olusola, held campaign rally in support of their respective benefactor.
While those who are completely for the All Progressives Congress (APC), campaigned for President Mohammadu Buhari and showed appreciation in the rally held in Ado Ekiti, many of their colleagues also displayed placards with inscriptions such as : " 'Fayose leads, we follow, 'Olusola Eleka for governor, 2018' , 'Support continuity agenda'and 'Fayose leads, we follow', among others.
The whole drama began as early as 8:30am on Saturday, when beneficiaries of the N-power who are over 3,000 in number gathered in front of the Ekiti State Teaching Hospital along Adebayo Road, for the Pro- Buhari and Pro-Fayose rallies .
While some displayed placards advertising President Buhari and appreciating his gesture for the scheme, others displayed placards campaigning for Fayose and his deputy Olusola, saying Fayose has promised them permanent job and they firmly believe the governor that if Olusola should win the election, they would be offered employment because Fayose has been a promise keeper.
The development almost resulted into a clash between the two parties, but the security men on ground were on top of their game as they ensured there was no rancour while each campaigned for their respective benefactor.
The beneficiaries marched from the front of Ekiti State University Teaching Hospital in Adebayo area of Ado Ekiti to the AB event centre in the area where accreditation exercise for the state's N-power beneficiaries took place.
Another drama occurred at the accreditation centre when officials of N-Power wanted to prevent those loyal to governor Fayose from entering the venue, they were however overwhelmed by the huge crowd in support of Fayose who eventually forced their way in while the security officials ensured there was no exchange of physical assaults from either party.
Explaining why the beneficiaries loyal to Fayose joined in the rally, Ajibade Segun, a beneficiary who is among those that are campaigned for Fayose and Olusola Eleka, said: "A few months ago, Mr. Governor, His Excellency, Dr. Peter Ayodele Fayose invited us to the government house and promised those of us who are N-Power beneficiaries in Ekiti that we would get permanent employment from the state government. This is why we are happy and we are now coming out to campaign for the Deputy governor Olusola Kolapo Eleka. We are here supporting the continuity agenda of his Excellency Dr. Peter Ayodele Fayose and supporting Olusola Eleka for governor in July 14.
" To the president, we are saying that we don't want just a temporary relief in the name of N-Power from massive unemployment in Nigeria, we want permanent employment. We also want the number of beneficiaries of the N-Power in Ekiti to be more than what we have presently. But most importantly, we want a permanent job like the governor has promised to give a good number of us, " he said.
Speaking for President Buhari on behalf of his colleagues, loyal to the president, another beneficiary, Adeosun Tayo Peter, said: "I want the people of Nigeria to know that we are not campaigning for Fayose or Eleka. It is Buhari that we know because he is the one who is feeding us. We have the banners bearing the image of Buhari and we are thanking him for this gesture.
" Thirty thousand naira for each of the beneficiaries every month is not a small money. In twelve months, we know what that money amounts to. The beneficiaries of N-power in Ekiti in this first tranche are 3,400, and 8,337 will benefit in the second tranche, those of us here now are more than 3,000 that have come for accreditation today.
" Buhari is our benefactor. are standing for Buhari. We are thanking Buhari for what he has done and we also want him to make the job permanent.