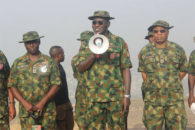 Chief of Army Staff, Lieutenant General TY Buratai and other top Army personnel
A member of Lagos State House of Assembly, Mr Olusegun Olulade (APC- Epe II), on Friday cautioned politicians against calling for military coup in the country.
Olulade said in an statement made available to newsmen on Friday in Lagos, that the remark credited to Deputy Senate President, Ike Ekweremadu on military intervention was unfortunate.
"We should not be talking about military returning to power at this time when the present government is trying very hard to put the country back to its rightful place.
"Anyone talking about military coup doesn't love the country," Olulade stressed.
He added: "We should be careful not to be inviting the military into our politics, such statement that suggest the return of the military should not have come from a member of the legislative arm of government.
"A true democrat will know that anytime the military strikes, the legislature will be the first to suffer.
"We can all remember what we went through during the military era, in which the citizens suffered severe hardship.
"So, we should guard against any action or inaction that can give rise to military intervention and interruption of our democracy."
Olulade who is the Chairman, House Committee on Health Services recalled that the Chief of Army Staff, Lt.-Gen. Tukur Buratai, had in the past alleged that some politicians were lobbying the top military hierarchy to take over power in the country.
He cautioned parliamentarians to watch their statements, so as not to encourage the military to topple the government and interrupt the country's democracy.
NAN