By Emma Ujah, Abuja Bureau Chief
The Development Bank of Nigeria Plc (DBN) and Nigeria Incentive-Based Risk Sharing System for Agricultural Lending (NIRSAL) have signed a memorandum of understanding (MoU) aimed at promoting lending to the Agricultural sub-sector of the economy and its value chain.
The signing ceremony which took place, yesterday, at NIRSAL Headquarters in Abuja, was a strategic collaboration that would impact positively on agriculture and all the value chain players and thus address the concerns of financial institutions on the high risk of lending to the sector.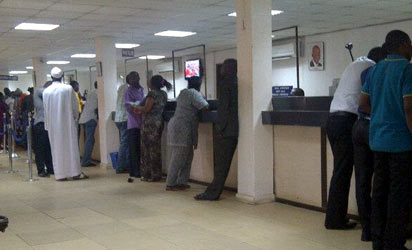 Speaking at the occasion, Managing Director of DBN, Tony Okpanachi,    said: "The Micro, Small and Medium-scale Enterprises (MSMEs), if well managed, have the potential to achieve key macro-economic objectives of the Federal Government which include, but are not limited to job creation, poverty alleviation, financial inclusion, and development of technology."
He explained that the core mandate of DBN was to alleviate financing constraints faced by MSMEs and small corporates in Nigeria through the provision of financing and partial credit guarantees to eligible financial intermediaries on a market -conforming and on a sustainable basis'.
Also speaking, Managing Director of NIRSAL, Aliyu Abdulhameed, said: "NIRSAL's primary mandate is to facilitate the flow of credit, finance and investments into Agriculture and Agribusiness.
"NIRSAL believes strategic collaborations with major stakeholders in the industry is pivotal to achieving defined and well-tailored objectives and results. It is in line with this view, that the partnership with Development Bank of Nigeria (DBN) is structured. As Development Finance Institutions (DFIs), NIRSAL and DBN share a common goal of supporting investments that will catalyse sustainable economic growth, create more jobs and equip farmers with the capital needed to thrive in the Agricultural sector."
Under the partnership, NIRSAL was expected to provide risk mitigating credit guarantees while DBN is expected to provide the funds for on lending to MSMEs in the agricultural sub-sector and its value chain.
While DBN was established by the Federal Government of Nigeria in collaboration with World Bank, African Development Bank (AfDB) and other International Development Finance Institutions to address the major financial constraints faced by MSMEs in Nigeria, NIRSAL was set up by the Central Bank of Nigeria (CBN) to provide the much needed risk management tool to enhance the flow of finance and investment in the agricultural value chain.