By Emma Nnadozie, Crime Editor & Esther Onyegbula
It was like the celebrated "day of the Jackal" as narrated by Frederick Forsyth in his thriller titled: Day of the Jackal.
The epicenter was the notorious Akala, a suburb of Lagos.
The notoriety of Akala in drug-related crime has never been in doubt.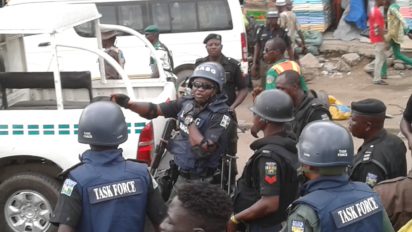 Akala holds an enviable record of thriving in both drug-related and other criminal activities in Lagos State.
Stories of criminal escapades in the area are better imagined. It is such that security operatives aptly branded it "headquarters of crime" in Lagos.
Penultimate day, the Police in Lagos decided to take the bull by the horns.
The state Police boss, Imohimi Edgal personally led a formidable team of his men to restore discipline in the area.
This was after an earlier operation by the Police in the area ended up in a bloody encounter.
A team of policemen led by the Area Commander, Mushin, Assistant Commissioner of Police, Akinbayo Olasoji accosted some drug peddlers ferrying large quantities of assorted drugs in a bullion van.  The audacious criminals stoutly resisted the Police team by firing at Police Operatives.
The clash subsequently created tension in Idi-Oro and Akala areas as business activities were grounded. Some residents, especially youths reportedly attacked the police team with stones and broken bottles.
Later, the Police returned with heavy reinforcement and engaged the hoodlums in a shootout after which a Police Sergeant and three others were killed.
The Police Sergeant identified as Abam Mohammed was hit by a bullet during the encounter.  He was rushed to the Mainland General Hospital, Yaba, where he later died.  The raid of criminal hideouts in these areas became pertinent because of the manner criminals living among the people attack residents and law enforcement agents.
CP's big hammer
Based on these, the visibly rattled Edgal ordered a raid of identified criminal enclaves in Akala.  During the raid, the criminal elements resisted the Police by hurling stones and different types of missiles at them.
They broke windscreens of cars parked along the road while they were fleeing from the scene.
This did not, however, deter the police from arresting 255 suspects comprising of 246 males and 9 females.
The Police also confiscated 39 big bags of Indian hemp and recovered two pump-action rifles and ammunition in the process.
Decade of violence and criminality
For over a decade Akala has become a notorious coven for all sorts of criminal activities, ranging from cult killings, armed robbery, rape, illegal possession and sales of arms and illegal drug trade.
At the centre of these criminal activities is the sale of hard drugs which has continued to induce crime and aggravate insecurity in Akala and its environs. Their activities have become a nightmare to not only security operatives but also residents who are constantly at the receiving end of the crises.
In a bid to sanitize the vicinity, security operatives, especially the Police, employed strict measures at various times.
As far back as September 2012, three notorious armed robbers were arrested for armed robbery by the operatives of the Federal Special Anti-Robbery Squad FSARS, at Adenji Adele. The suspects, Musiliu Shitta aka MC 28, Lateef Balogun aka Ika, 32, and Bolaji Salawu aka Basia were arraigned at Igbosere Magistrate Court on a nine-count charge.
On May 30, 2013, a combined team of officers of the National Drug Law Enforcement Agency, NDLEA, and the Nigerian Army raided the area.  The operation, which lasted many hours, led to the arrest of 47 suspected drug traffickers and addicts and seizure of 3,166.15kg of narcotics such as cannabis, cocaine, heroin, and methamphetamine.
A week before then, 187.355kg of cannabis was also sized from an illegal warehouse located in the vicinity.
One of the successes of the clampdown by the Police in Akala was the arrest of a 37-year-old notorious armed robber, Lanre Olowojobi, aka Pumpy in May 2017.
Olowojobi who was arrested by operatives of the Lagos State Taskforce revealed that apart from carrying out robbery operations, he had raped over 30 women in 3 years.
Also on October 7, 2017, Police in Lagos and operatives of the task force during the enforcement operations around Akala on the directive of Edgal arrested 50 suspected notorious criminals with 48 bags of illicit drugs.
Ironically, women have become key players in criminal activities especially,  illegal drug trade.
In one of the mid-night joint enforcement operations led by Mr. Olasoji Akinbayo, an Assistant Commissioner of Police with the Chairman of the Lagos State Task Force,  SP Olayinka Egbeyemi and all Divisional Police Officers under Area 'D' command, Mushin,  six women including one Mrs. Basirat Jimoh' a.k.a 'Iya Suzzy' were arrested and charged before Magistrate Lateef Owolabi of the Lagos State Mobile Court on 3-count charge of unlawful possession of weed suspected to be Indian Hemp.
A resident, who identified himself as Yusuf Fatai disclosed that the area had become dangerous at night.
"There is no time in a week that we will not hear of robbery incidents here.  This area becomes a business spot from 7 pm for these boys who rob people, '' he said.
Another resident, Mr. Baki Saheed lamented thus: "For many years, Akala has been a criminal stronghold where gangs hold sway. They used the proceeds to acquire arms and ammunition".