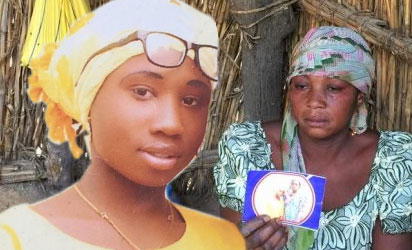 Leah Sharibu and her mother, Rebecca Sharibu
•She is on her way back — IGP
•CAN fixes today for nationwide prayers for her freedom
•Ex-Prelate Makinde to give her scholarship
By Sam Eyoboka, Olayinka  Latona, Bashir Bello, Luminous Jannamike
The Dapchi schoolgirl who Boko Haram refused to release alongside her 104 kidnapped colleagues for not renouncing her Christianity is being hailed as a hero by the Nigerian Christian community.
Prayers have been called for today by the Christian Association of Nigeria (CAN) for Leah Sharibu's release.
CAN National President, Rev. Samson Olasupo Ayokunle, while announcing the prayers, lamented what he described as feeble attempts made by the Federal Government to secure the release of the 15-year-old girl, saying the development confirmed the fear in some quarters that Christians in Nigeria were endangered.

A faction of Boko Haram terror group had, in February, kidnapped Leah and 109 other girls as well as one boy from Government Secondary Girls, Daphi, Yobe State.
Last Wednesday, when the group returned 104 of the girls to Dapchi after about one month in captivity, six others were not among them.
Whereas five of the girls reportedly died while the captors were taking them to their Sambisa forest hideout, Leah's refusal to renounce Christianity and accept Islam was adduced as the reason the Boko Haram faction decided to keep her.
President Muhammadu Buhari, while hosting Leah's 104 colleagues in Abuja, last week, vowed to do everything to secure the release of the schoolgirl.
In a late development last night, a report monitored on Channels TV website quoted the Inspector General of Police, Ibrahim Idris, as claiming that the girl was on her way back from captivity.
The Channels report said: "The IGP confirmed this on Saturday"(yesterday) in an interview with journalists at the Military Command and Control Center in Maiduguri where he visited the Theatre Commander Operation Lafiya Dole.
"He said he had been scheduled to travel to Dapchi but shelved the trip so as not to jeopardize her release.
"Leah was reportedly held back for refusing to denounce her Christian faith while in captivity but the government promised to do everything possible to secure her release just like the rest.
""The Yobe state chapter of the Christian Association of Nigeria (CAN) had also urged the Federal Government to do all it can to secure her release.
The CAN President, in a statement by his Special Assistant on Media and Communication, Pastor Bayo Oladeji, yesterday, noted that if Leah meant nothing to government and the security agency that negotiated the release of other Dapchi schoolgirls, the life of the young girl meant a lot to her parents and to so many Nigerians, irrespective of religious affiliation.
"The CAN President, Rev Dr Samson Olasupo Ayokunle, has directed all churches in the country to pray for the freedom of Leah Sharibu from the captivity of the Boko Haram terrorists on Sunday, 25 March, 2018," the statement added.
The immediate past prelate of Methodist Church Nigeria, Most Rev. Sunday Ola Makinde; the Chairman of CAN in 19 Northern States and Abuja, Rev. Yakubu Pam; a former Director of National Issues of CAN, Elder Sunday Oibe, and the founder of the Macedonian Initiative, Rev. Ladi Thompson, hailed Leah as a
Christian hero.
Makinde, who promised to sponsor Leah's education when released, thanked God that the Dapchi schoolgirls except the one who refused to renounce Christianity was freed.
"Where were the security people when they were brought back in the same way they were taken into captivity?", the erstwhile Prelate asked rhetorically.
He continued: "But thank God that they were released and I can tell you here and now; if anybody played pranks in the avoidable capture and the release of the innocent girls, God will visit him with His wrath.
They say we lost five of the girls. Thank God, again, Mr. President has pledged to the whole world that he will ensure the rescue of the only Christian girl among the pack. Reports say she refused to denounce her Christian faith and accept Islam in exchange for her release. It's sad that we are playing on the emotions of people.
"As for Leah Shadiru, I doff my hat for her. Jesus Christ said a good shepherd leaves 99 sheep in search of one that has strayed. So, let them intensify efforts to make sure the only Christian girl is released and returned to her parents who must be going through trauma right now.
"To the younger generation of boys and girls in the country, I urge them to believe whatever they believe and learn a lesson from this girl and be prepared to die for their faith in the right way.
No doubt that girl is principled. I have just spoken to the CAN President, Rev. Samson Ayokunle, and I told him that whenever they secure the release of that girl, I volunteer to sponsor her education to the university level.
"Honestly, Nigerians should rise up, irrespective of your faith, to make this girl great because she has stood for what she believes. That girl is a saint; a living martyr. I give credit to the parents. They have demonstrated that Christianity is not a religion of force, but that of persuasion and conviction. When you accept, you don't kill others in order to join you".
'Celebrate her'
Pam, on his part, tasked the Federal Government to ensure the immediate and unconditional release of Leah.
"I think the Church in Nigeria should celebrate her because she has proved to be one of those people whose life will be speaking as an example. In the face of such danger, she refused to deny her faith. Like the Bible says; sheep among wolves…its not easy to be called a sheep among wolves. Not just one wolf, not two…you know what that means…you will be consumed completely.
"This girl is a general of faith and I think she has created a great testimony for other girls to follow. We have often seen some of the bad girls we have around take their bags themselves to go the mosques to look for money and tell them that they want to be converted for the purpose of making money.
"But this one is seeing death, but yet she says she prefers to die. We will wait for her arrival to celebrate her".
'Great sacrifice'
Thompson believed that the resolve of Leah not to renounce her Christian faith in exchange for her freedom is a great sacrifice that has to be interpreted with gravity. "It is an action that should be celebrated not only as a Christian victory of fearlessness by assurance but also a monumental action in defence of religious liberties for all Nigerians as her action is a confirmation of the terms of the accord that binds us as a nation", the founder of the Macedonian Initiative, who is also a security consultant, said.
"On a third level, it is a courageous stand against feminine gender abuse on behalf of African women and it should be treated finally as a patriotic sacrifice for the unity of Nigeria. If it is not processed this way the release of the other 104 girls at the expense of her conviction would then be a massive victory for the Boko Haram whose actions show that the Federal Government is at their mercy since there was no ransom paid or prisoner swap.
"Should it be later revealed that there was a ransom paid or prisoner swap we will conclude that the Government has lost the plot. We must thank God for a young girl that is showing sacrificial leadership skills that our political leaders lack".
Oibe, also speaking on Leah, said: "Honestly speaking for that girl to refuse to denounce Jesus Christ despite the overwhelming danger I doff my hat for her. I doff my hat for the parents too for bringing her up in the fear and nurture of Christ the Saviour. I also doff my hat for the church they attend for teaching them the undiluted word of God. God will bless the church"
Masari engages 1,000 to watch schools
Meanwhile, Governor Aminu Bello Masari says Katsina State government has engaged 1,000 watchmen for its secondary schools.
Masari spoke during the 3rd convocation ceremony of the Umaru Musa Yar'Adua University, UMYU, Katsina.
The governor said the action was a proactive measure taking into consideration the insecurity in the secondary schools across the country especially the boarding ones.
It is words: "Taking into consideration the present security situations across the country especially in the Boarding Secondary Schools, the state government has approved the employment of 1,000 watchmen for all the secondary schools in the state."