By Joseph Erunke
ABUJA—THE Nigerian Army has denied allegation by one 'deserter personnel', David Bako, who accused it of playing major roles in the abduction of Dapchi schoolgirls.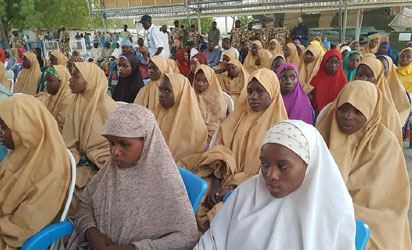 Social media reports have quoted the David Bako, said to be a deserter officer of accusing the Army of complicity in the act.
Bako, according to the reports, claimed to have deserted the service, given the roles the army played in the abduction saga, which, he said, was stage-managed at Presidential Villa with the release of N80 million for personnel of the army, who participated in the alleged script.
But reacting to the allegation, yesterday, spokesman of the Nigerian Army, Brigadier-General Texas Chukwu, denied in a statement that the allegation and asked the general public to disregard the report.
He vowed that the army would get into the matter and deal with those behind the allegation accordingly.
He said, having gone through its record, the army discovered that there was no officer bearing the name David Bako, saying it had always been neutral in its constitutionally recognised mandates.
The statement read in part: "The Nigerian Army, therefore, put the record straight that it has cross-checked its records and cannot find any one called Sergeant David Bako who neither deserted the army nor was dismissed.
"The Nigerian Army, therefore, disassociates itself from such fictitious report and requests the public to disregard the confession made by the so-called Sergeant David Bako who has not been in the army at all.
"It is imperative to know that these baseless and insane allegations are not new in the cyber space, knowing the fact that we are in the age of information warfare.
"The Nigerian Army wishes to reiterate its commitment to remain apolitical and non-partisan in the discharge of its constitutional roles.  We would also like to reaffirm our unconditional support and obedience to civil authority as well as reassure Nigerians that these fifth columnists will not succeed in their mischief as they will be fished out and dealt with accordingly."