By Festus Ahon & Ike Uchechukwu
The release of the abducted Dapchi schoolgirls has been described  as a scam by former Delta State governorship aspirant, Chief Sunny Onuesoke, saying: "It is an attempt to hoodwink Nigerians."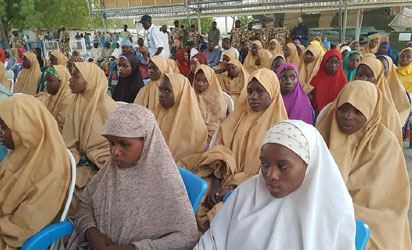 Also, Mba Ekpezu Ukweni, SAN, has alleged that Federal Government paid heavy ransom before the abducted schoolgirls were released.
Speaking with Vanguard, yesterday in Calabar, Cross River State, Ukweni regretted that the Federal Government was being economical with the truth over the release of the abducted girls.
He alleged that the Federal Government and Boko Haram were using abductions to siphone money to fund terrorism.
He said: "Money was paid as ransom and it is this money they use in buying more arms and kidnap more people and terrorising other parts of the country in the name of hrdsmen."
On his part, Onuesoke,  who spoke to newsmen, yesterday, at the Abuja International Airport on the release of Dapchi girls by Boko Haram sect, said: "It is unfortunate that under this administration, matter of national security is being treated with so much triviality.
"Judging from the charades that characterised the abduction and release of the Dapchi schoolgirls, one can only conclude that it is a scam, a cheap propaganda and an attempt by All Progressives Congress, APC/Buhari-led government to hoodwink Nigerians. Obviously, it is a stage managed abduction and release.
"It is interesting to note that before the abduction of the 110 school girls on February 19,  2018 at 5:30p.m., security check points were withdrawn and the security forces refused to act despite advance warnings.
"It is, therefore,  not out of place to say that those who removed the military checkpoints and allowed the Dapchi girls to be kidnapped have released them after making millions of dollars as ransom.  Boko Haram is now a very lucrative business under this APC/Buhari-led Federal Government."