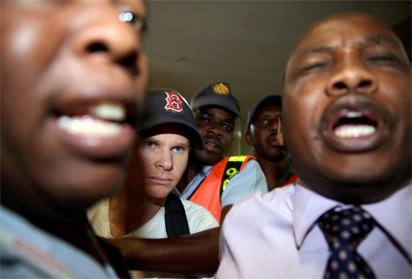 Axed Australian cricket captain Steve Smith is escorted by Police officers as he leaves the O.R. Tambo International Airport in Johannesburg, South Africa March 28, 2018. REUTERS/Siphiwe Sibeko
The Australian cricket team lost a major sponsor and a host of large companies tore up branding deals with individual players on Thursday.
This was the fallout of a ball-tampering scandal that tore into the financial core of the country's favorite pastime.
Fund Manager, Magellan Financial Group Ltd., binned a three-year team naming rights deal, which was only seven months old, while sports apparel giant, ASICS Corp, and Commonwealth Bank of Australia joined other firms in dropping players caught in the scandal which has shaken cricket.
The quick financial fallout to the ball-tampering last Saturday in South Africa, 11,000 km (6,835 miles) away, shows the eagerness of the corporate sector to distant itself from a distasteful scandal.
The scandal came up at a time when the internet and social media can keep public criticism alive seemingly indefinitely.
"A conspiracy by the leadership of the Australian men's test cricket team which broke the rules with a clear intention to gain an unfair advantage goes to the heart of integrity," said Magellan CEO Hamish Douglass in the statement.
"These recent events are so inconsistent with our values that we are left with no option but to terminate our ongoing partnership with Cricket Australia."
A day earlier, Cricket Australia slapped Captain Steve Smith and Vice-captain David Warner with 12-month ban from international and domestic cricket for their role in the episode.
The development has earned condemnation from leaders all the way up to the prime minister.
Cameron Bancroft, who was caught on camera attempting to scuff up the ball with improvised sandpaper during a test against South Africa in Cape Town, was banned for nine months.
All three were sent home from South Africa.
Magellan has not put a price on the sponsorship deal and did not immediately return calls seeking more details, but Australian media reported it was worth about A$20 million ($15.30 million).
The relatively low profile company's 2017 annual report said it struck the Cricket Australia deal to improve its familiarity with Australians and forecast a "material increase in its currently modest marketing expenditure" in part because of the sponsorship.
Morals clauses are commonplace in sports sponsorship deals, allowing both parties to exit if the other engages in conduct that might negatively impact on the image, goodwill and reputation of their partner.
More than 52 per cent of Australians thought suspending players for a season was the most appropriate punishment for ball tampering, a poll by Australian cable television network Sky News found. Nearly a third supported a lifetime ban. (NAN)