By Dayo Johnson, Regional Editor, South-West
ON February 24, Governor Rotimi Akeredolu of Ondo State clocked one year in office. To mark the occasion, Akeredolu speaks on his achievements and how to stop the rapacious activities of Fulani herdsmen among other national issues.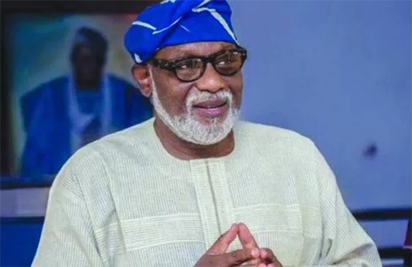 Tell us your experience in this last one year.
lt has been a great challenge; it was expected that it will take its toll but, by and large, I think I have enjoyed my one year. I have tried to run the government with the ease that it deserves. It is not what I carried on my head; it is not a matter of life and death. I will do my bit and, when I am through, others will continue the work.
Why has your government not done any ceremonial flag-off of projects?
My idea of governance in the past one year is what I will call an intervention. We have intervened on a number of issues that are really fundamental to our people, particularly on roads, repair of classrooms and creating an environment for investment. We are just at the foundation level and the foundation must be strong enough because we are building more things on it. The roads that we met are bad and we intervened immediately; we don't need to flag-off such intervention. I ordered the Ministry of Works to get the contractors to move in and do the work. Now most of these roads we are commissioning just after one year in office are major roads that we had to intervene on. I want to use this medium to express appreciation to the contractors; virtually all of them went to start the roads without mobilisation. They had recovered over 30 per cent of the roads before we paid them some money. At times, they had done 90 per cent of the job before we paid them half of the money. We have done quite a lot when it comes to roads.
You talked about your government as an intervention. Would it be right to say that the proposed overhead bridge over Benin-Ore Road you flagged off is an intervention?
We have singled out a few that we call legacy projects that we have flagged-off. One of them is in the overhead bridge on Benin- Ore Road that you spoke about. The second one is the road from Araromi to Lekki that we are doing in collaboration with the NDDC. What we want to do is that by next year we would turn Ondo into a state where every activity that has to do with tech and others is done here. We are starting with FUTA and that one is ready. We are going to have another hub in Owo.
What is the fate of the projects you inherited from your predecessor?
We have continued to do projects from the past administration in the state because we believe that government is a continuum. We will not neglect what they have done except they are things we don't consider a priority. For instance, there is no way I will build a mega school. I said it during electioneering campaigns that I don't believe in mega schools. We will spend money to repair more schools and many people will benefit from it. We are spending money on the universities in Ondo, Okitipupa and Akungba. If someone chose to abandon OSUSTECH in Okitipupa for eight years, I don't believe in that, it is not a good approach to governance. I told them in Owo that, in my own time, I will not because I am from Owo establish a university there. Three universities are too many for a state.
What is the actual figure of the debt your administration inherited?
We met a debt profile of N220 billion. Figures don't lie. It is true that the former Commissioner for Information came out and said something else; they even said they left money. I expected the people of this state to ask them: 'You said you left money but you didn't pay salaries?' You couldn't have had money and owed workers seven months' salaries except you want to tell us that you were doing it deliberately and I am not sure any government anywhere will do that. That administration left huge debts. For me, I just want to start and do my own work. But we need to let the public know the position of things. I have no reason to lie about the state of our economy as of the time I came in as governor. If you owed salaries and your wage bill is about N4.8billion per month; if you multiply that by seven months, you are within the range of N30 billion. So, how would you say you left money? You also owed pension, owed your political appointees severance benefits among others.
What is the situation on the payment of salaries since you assumed office?
We met seven months unpaid salaries; we have paid four months and not owing any salaries from our administration. We are talking about arrears to the tune of N20 billion. If we had channelled that money to other things, by now it would have been a different thing. In almost eight years, there were no promotions in the civil service in this state but we promoted them. We did that to make the civil servants more committed, give them a better working environment; there is training that is on-going for them, we are doing a lot. For us, welfare of civil servants is important. We are looking for money here and there to pay. Yes, we owe and we took bonds, yet people say they do not owe, is that not a debt? All we did is to restructure the bond so that what they take from us monthly will be slightly less and we will still have money to attend to some other things. We must develop the state. I am happy you noted the issue of Air Peace airline coming to Akure on daily basis. That wis one of the things we did when we came in and we are paying them money. We are convinced that we must open up this state. Most of the investors come, they discuss with you but driving here from Lagos, they are discouraged. On their way back, they make up their minds that they are coming back. That is if they are not kidnapped before they return to Lagos. We looked at all these things; at a cost to us, we decided to bring Air Peace and they are doing well.
Many believe that as one of President Muhammadu Buhari's loyalists, you should have an idea on how to resolve the problem of herdsmen. Are they right?
I don't know about that aspect of being the President's loyalist, I don't know. All I know is that we have problems with herdsmen. My position on herdsmen has been different from many other people. My position is that there is no way we won't have grazing areas or ranches in all the states of the federation. We have signed the paper but I am not sure we are flagging it off yet. You can call it ranches or grazing area but don't call it a colony. I said it that if we have it in every state, Ondo can have a minimum of three in different locations. But it is not that you have your cattle and move them to these ranches; that is not the idea. Because if you want to move them, as you are going, the cattle may not know what you call ranch, everything they see on the road they would eat. My own idea is that if we have it in all states, even herdsmen, by the time you interact with them properly, everybody doesn't want to be permanently nomadic, they want a settled life too. We must discourage nomadism. The company that took our own are going to the North to buy cattle. The solution is to haul the cattle rather than move them by road. So, if I haul the cattle from Kano down here, by the time you take them, you fatten them and, in less than three months, you will make money. If you are able to do that, the people will buy a cow that is healthy, well-fed and big, rather than the one that trekked from Sokoto or Kano. There is a bill we want to pass but we want to look at it very well. It is not colony but we must encourage ranching in every state, not only in the South. Northern states might even have more ranches so that you can go there, buy your cows and haul them here because we are the ones that eat beef. We eat about 10,000 herds of cattle per day in Lagos and, when you have your parties on weekends, the figure goes to about 20,000 herds of cattle per day. So, if they don't bring the cattle what happens? There are things that would divide us and the same things can also unite us. Why can't we look at how such things will unite us than divide us? What will assist us most is to have fast trains. If we have them, we can kill the cow in Kano, refrigerate it and bring it to Lagos and people will buy, they don't have to kill it by themselves. After all we eat frozen chicken and turkey; we don't know how long it has taken to get to us from the source. So, what stops us if a cow is slaughtered and is kept for three days in a refrigerated train?
What is the focus of your administration? The immediate past administration focused on health and education which earned it commendations both locally and internationally?
No administration will take its eyes away from health and education. We will do whatever we can do in that regard but what I want to face with everything in me is these rural roads, farm to market; that is what matters to me. We have abandoned these people for too long. All of us sit down in Akure, Owo and Ondo, all the money is spent on the urban areas. These people day in day out vote for you and we must make sure that we make life slightly comfortable for them. So, what I want to face clearly is farm to market roads; I want to open up our rural areas, it's so dear to me. Whatever it will cost me, I will open up these rural areas.
What is the fate of the mega schools built by your predecessor across the state?
With all respect to my brother and past governor, I am not too sure it was done with a thorough plan because most of them don't have enough students. The polytechnic has applied for the one in Isoro that has been there for a long time and not put in use. They want to use it as a Centre and they believe that it will be better utilized. My predecessor, before he left, knew the problems. The one in Ondo, he gave it to the university. The one in Ile Oluji, he gave it to the polytechnic. We are going to assess everything. Okitipupa has asked us for one, we are giving to OSUSTECH too. The one today in Araromi is just lying there; we can't see anybody that wants it yet. This is the situation. It is not because the schools are not well built, we are even paying debts on them.
Are you likely to merge the universities in the state given the huge fund they are gulping?
The merger of universities is more political and highly sensitive and because of that, you must tread carefully. In making your decision on this, many things we surely guide it. We have had education summit and if people do not see what danger the state suffers having three universities, they are on their own.
What is the state of the All Progressives Congress in Ondo State?
Since we came on board, the party has been allowed to exercise its independence. The governor is a member of the party, but it doesn't mean he is above the party. Of course, a party in government will have more people and we are frightened at a time on how to manage the influx and continue without a robust opposition. The structure is solid under the leadership of Engr. Ade Adetimehin. We are solidly on the ground and, with God on our side, we are going to be here for a long time to come.