A Federal High Court sitting in Lagos yesterday held that Chief Mike Ozekhome, SAN, was validly appointed to represent four companies that pleaded guilty to laundering $15.5million allegedly belonging to former First Lady, Dame Patience Jonathan.
Trial judge, Justice Babs Kuewumi held that another lawyer, Luke Aghanenu, who claimed to have been appointed by the companies' directors, was not properly appointed.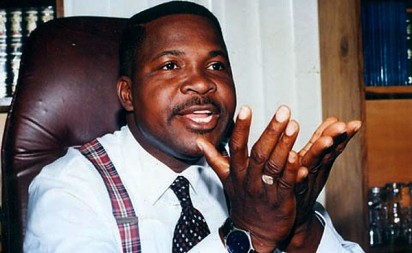 The companies are Pluto Property and Investment Company Ltd, Seagate Property Development and Investment Company Ltd, Trans Ocean Property and Investment Company Ltd and Avalon Global Property Development Ltd.
The Economic and Financial Crimes Commission, EFCC, arraigned the firms alongside a former Special Adviser on Domestic Affairs to President Jonathan, Waripamo Dudafa, a lawyer Amajuoyi Briggs, who is the companies secretary and a banker, Adedamola Bolodeoku.
But the companies pleaded not guilty to the 17-count charge.
Aghanenu filed a motion for change of counsel, praying the court to hold that he was validly appointed by the companies' directors to represent them, not Ozekhome.
But, Ozekhome urged the court to dismiss the application for change of counsel, arguing that he was authorised to act as the companies' counsel through a letter by Briggs.
Ruling, Justice Kuewumi held that if the companies wanted to change the counsel that was appointed by their secretary, it ought to be by board resolution.
He said there was no such resolution before him and that the individual hand-written letters by the companies' directors fell short of the minimum requirement.
"The fourth to seventh defendants are limited liability companies. If they are to change counsel, it should be by way of board resolution," he said.
The court noted that it had earlier ruled on the issue when there was a dispute on representation, in which it recognised Ozekhome as the authorised counsel.
"Until that decision is appealed against, this application is bound to fail. Same is hereby dismissed," the judge held.
During hearing of the application, Ozekhome and EFCC lawyer Rotimi Oyedepo had clashed when Oyedepo said he was not opposed to the application for change of counsel.
Ozekhome had accused EFCC of trying to determine which lawyer would represent the companies, adding that the commission should not be interested in who represented the companies.
Meanwhile, Justice Kuewumi adjourned till May 2 for hearing of pending applications in the case.