By Levinus Nwabughiogu
ABUJA—WORRIED over the alleged large scale corruption in the Niger Delta Presidential Amnesty Office, the House of Representatives has mandated its relevant committee to carry out a comprehensive probe into the activities of the office since inception.
Following this, the recently sacked coordinator of the Office, Gen. Paul Boron (retd) and his predecessor, Mr. Kingsley Kuku will be appearing before the House Committee on Niger Delta on a date yet to be announced.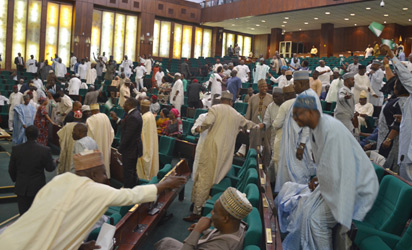 Already, Boroh is being quizzed by the officials of the Economic and Financial Crimes Commission, EFCC and the Office of National Security Adviser, NSA over financial improprieties after his sack by President Muhammadu Buhari, last week.
The House also mandated the committee to assess the impact of the amnesty programme on the ex-agitators in the Niger Delta region.
The resolution of the House was sequel to the consideration and adoption of a motion by Abubakar Chika Adamu from Niger State at plenary, yesterday.
Canvassing  support to the motion earlier,  Adamu recalled "that hundreds of ex- agitators besieged the gate of the National Assembly in November last year, protesting the non payment of their stipends and other allowances."
"Despite the huge amount of money ranging from N60 to N70 billion allocated to the office, most of repented militants sent to various schools abroad had faced all sorts of humiliations and embarrassment by their host country embassies," he noted.
When subjected to voice vote by the Speaker of the House, Mr Yakubu Dogara, the motion was unanimously adopted by the members.