The Speaker of House of Representatives, Mr Yakubu Dogara, said the House would ensure that communities in the country were involved in the design and implementation of projects in them.
Dogara stated this on Monday in Abuja, at a public hearing on a Bill seeking to amend the Environment Impact Assessment Act to make it more responsive.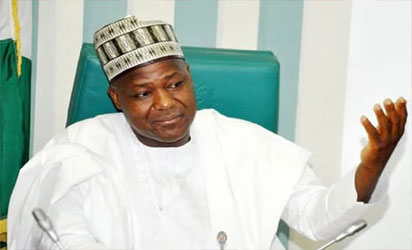 He said that communities should be able to know how projects intended for them would impact their environment.
The speaker said that it was advantageous for host communities to be part of the process of any project earmarked for them and on how it would help in protecting the environment.
"Today, we are all gathered to make valued inputs and presentations on the Environmental Impact Assessment Amendment Bill.
"This bill seeks to amend the Act to make it responsive by ensuring that project developers, approving authorities and persons whose livelihood will be affected by proposed projects are involved in decision-making on the projects.
"This is to safeguard the environment and ensure adequate remediation of the environment."
He commended the Ministry of Environment and other stakeholders, including Civil Society Organisations (CSOs) and the academia, for their efforts toward addressing environmental issues in the country.
"Furthermore, I am informed that the Federal Ministry of Environment is taking steps to address the gaps, omissions, inadequacies as well as globally-emerging issues which include strategic environment assessment.
"I recognise the role of all stakeholders – the government, CSOs, the academia, industry operators in various sectors of our economy in advocating for a virile and effective Environmental Impact Assessment (EIA) as an environment tool," he said.
Dogara stressed the need for improved environmental assessment and audit processes and expressed hope that when amended, the Act and policy reforms would ensure a better deal for the environment, the people and industry operators.
He maintained that the "disastrous" effects of some projects had necessitated extensive and more inclusive deliberations before implementation.
He said that attendant disastrous effects of some of projects across the country had made it imperative for all stakeholders to painstakingly deliberate on the issues.
The speaker commended the House Committee on Environment and Habitat, which convened the public hearing, for its diligence in addressing various lapses and lacuna in environmental laws.
He urged the committee to use the input from stakeholders to formulate an amendment bill that would effectively address inadequacies.
"Our communities and our people deserve the best from us and this 8thAssembly is determined to give them only the best," the speaker assured.