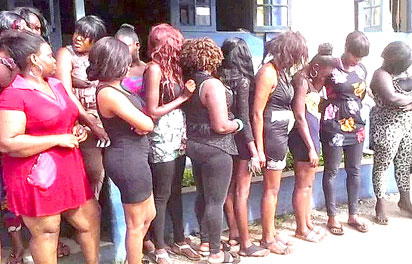 …Victims, Madams at war in Europe as girls celebrate their freedom
…Pains, as Madams abandon girls in Libya
…Oba's curse has made our job easier — NAPTIP
BY SIMON EBEGBULEM, BENIN CITY
FOR those, who doubted the efficacy of the curse on human traffickers by the Oba of Benin, Oba Ewuare 11, the calls on trafficked girls to come and take their pubic hairs and pants from shrines are indeed a direct response to the doubts.
Saturday Vanguard learnt that native doctors, who hitherto held the power of life and death over the girls, are now terrified to the extent of reaching out to them through emissaries.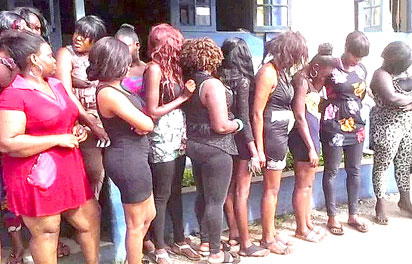 The native doctors in Edo State and other states, whose charms are known to have sustained the trafficking business, were gathered to have been uncomfortable since the Benin monarch made the pronouncement.
For many years, human trafickers, sponsors of girls to Europe where they are forced to engage in prostitution to pay back their sponsors who are fondly called "madams." It is simply sex slavery. The trade had badly damaged Nigeria's image abroad. Most of the girls are Edo indigenes.
Complying with the order
Saturday Vanguard recalls that the Oba recently placed a curse on human traffickers, cult-related killers and other criminals perpetrating crime in the state to complement the efforts of the state government in the war against human traffickers.
The Oba had dug out juju that had not been exposed to sunlight for 800 years to place the curse.
However, it was learnt that the frightened native doctors had called the parents of some of the girls to come for the items they used in administrating some oaths, as most of them were no longer comfortable keeping them in their shrine.
The decision to call the victims' parents instead of the traffickers, who hitherto owned the properties before the Oba's pronouncement, was to ensure that some stubborn traffickers do not hold on to them.
Reliable sources told Saturday Vanguard in Benin City that the traffickers are devastated by the fact that the development has made it impossible for them to recoup their investment in the trade.
Italy, Germany, France, and Russia
Consequently, some of them have commenced complying with the order in Italy, Germany, France and Russia and India.
However, it was gathered that some maintained that since they were not indigenes of the state, their trafficked victims would still pay the money used in taking them outside the shores of Nigeria.
For instance, an Igbo woman was said to have granted freedom to her victim in India, while some are hell-bent on being paid in defiance of the royal curse.
Expectedly, there is much compliance from the trafficked victims, who Saturday Vanguard gathered have refused to make further payment to their traffickers.
Some of the girls are coming together as a group to be able to form a formidable force to battle their respective traffickers.
Calls from Europe and Asia
Special Assistant to the state governor on Anti-Human Trafficking, Comrade Solomon Okonduwa, who spoke to Saturday Vanguard said his office is being inundated with calls from Europe and Asia over the effects of the curse by Oba of Benin.
Okonduwa said: "The impact of the Oba's pronouncement has gone a long way to free our girls from the hands of these Madams in Italy and native doctors who are in possession of the girls' personal belongings like pubic hairs, and pants among others.
"Some of the native doctors are calling their parents in Nigeria to come and take their properties out of the shrine in compliance with the directive of the Oba of Benin. Some of the girls in Europe are rejoicing while some are crying that their traffickers have not yielded to the voice of the Oba.
"An indigene of the state, whether the person is Esan or Edo North, is under the leadership of the Oba of Benin. Some are raising some issues that the pronouncement is for only Edo people, but we want to say that even an Igbo man or Yoruba who takes any Edo indigene to Europe, will be affected by the curse. As long as the person commits that offence in any part of Edo State, he will be affected. They should understand that those that disobeyed the Oba in the past had stories to tell.
Disobeying the Oba
"Those who have been freed, have been sent packing by their traffickers. But some of these girls have no place to stay after being sent away by their traffickers. We are referring them to some Non-Governmental Organisations, NGOs, who are into charity in Europe. The NGOs will take care of them so that they will not be sleeping at train stations.
"Most of the girls that have gone to these NGOs have renounced prostitution. These NGOs are assisting them. Those who want to live responsibly are being taken care of. Those in India, Russia, and France have some NGOs. We got a report from India that a trafficker who is from Edo State allowed her victim to go but an Igbo woman insisted that the girl must pay the money on the grounds that she is not from Edo State. We received that call three days ago. There is compliance in Italy, Germany, France and Russia.
"We still have many of them in Africa and we are monitoring the situation seriously"
Juju priests on the run
Also speaking, the Benin    Zonal Commander of National Agency for Prohibition and Trafficking in Persons, NAPTIP, Mr. Nduka
Nwanwenne noted that: "Most of the juju priests are on the run. There was one we wanted to arrest three days ago but he ran away. There was a lady that was summoned to appear before the juju priest we also tried to track the man but he got wind of it and took off.
"The victims have also refused to make further payment to their traffickers. It has been a positive development. We have seen situations where most of these victims are now free to talk which will help us during prosecution in the court.
And the Oba's pronouncement is going beyond Edo State. I visited Agbor where I met with a traditional ruler and I know what he said. The effect is so much. There has been positive development so far and it has made our jobs easier"
However, a Benin lady based in Spain, who pleaded anonymity, informed Saturday Vanguard that apart from the effect on the business of trafficking, some girls who were in transit to Europe have been abandoned in Libya.
She said: "The Oba's curse is affecting the businesses of the Madams and they are all scared now.    The girls who are already in Libya on their way to Europe as of the time of the Oba's declaration are now stranded in Libya. The Madams have decided that since Oba has placed a curse on them, they will no longer carry on with the trade. So, they are no longer sending money for the upkeep of the girls in Libya from where they would have moved some to Europe. The girls are now stranded in Libya.
"The situation is causing pains to these girls in Libya because usually, the Madams who will take them to Italy are the ones in charge of their feeding, transportation, and other expenses in Libya.
"Now that the Oba has placed the curse, they have completely abandoned these girls in Libya and those girls are now vulnerable with all kinds of things.
Girls abandoned in Libya
"The Madams should send them money to send these girls back home instead of keeping them in Libya. But one of them told me that she is even scared of sending money to one of the girls to go back to Nigeria because she does not know whether the curse will affect her if she tries to help. They have now left those girls to fend for themselves. These girls are being sold as sex slaves now in Libya. I just hope that the governor of Edo State, who has been doing a lot, will chatter a plane to bring those girls back."
A few days after Saturday Vanguard published the story of the Oba's pronouncement,    some of the trafficked girls posted two videos on the social media, vowing not to pay their traffickers.
In one of the videos, an Austrian-based girl, who identified herself as Joy, vowed not to pay further money to her Madam.
She narrated how she came to Europe through Libya two years ago, adding that she was told to pay 30,000 Euro by her Madam so as to be free.
She said: ''I don't have a good job because I have no document. And my Madam expects me to get the money through prostitution and I can no longer cope. I was sleeping in a train station before I was able to get a small house where I live now. I have been paying that money back to my Madam since then. But I thank God when I heard about the Oba's curse because I need to plan my future and stop being a slave to a woman.
I called my Madam and I told her about Oba's curse, saying that I was not ready to pay any more. She started shouting and asking me whether it was Oba that brought me to Europe. I told her it does not matter that after all, I took the oath in Benin.    The native doctor is still with my pubic hair, pant and other things we used for the oath-taking. We were three girls my Madam brought here. I am in Austria, one is in Italy and another one in France.
I am in Austria
"She asked the one in France to pay 40, 000 Euro, while the one in Italy will pay 30 Euro.
"If we are not able to pay the money, we will be valueless as women in life. No man will ever marry us because we will be finished while the Madam and her family will be enjoying life. The Madam is threatening me saying that if I don't pay this month she will deal with me. But I want to say that if she tries anything against me, I am going to call the Police for her. She is an evil woman. I have been enduring a lot of things.
These women sponsor people here to destroy their lives. In Italy the man pays five or ten Euro for a round of sex, is that life? And we have been suffering this because we want to pay the money to Madam. But enough is enough and in the event that anything happens to me, she should be held responsible".
Another girl in Europe, who identified herself as Jenifer, said her Madam asked her to pay 35,000 Euro, adding that she had paid 30,000 Euro before now.
She said: "I have told my Madam that I can longer pay the balance of 5,000 Euros because of Oba's curse. After all, I came to Europe by land and not air. I came through Libya. I suffered to pass through the Sahara Desert.    She is calling everybody in Nigeria threatening me.
The family said they will take my pant and pubic hair to a native doctor so that I can be deported to Nigeria.    I will arrest her If she continues to threaten me. She stays in Cologne, Germany. Her name is Queen Iyobo, I will deal with her if she disturbs me. She is claiming that she is Esan and not Benin, saying that Oba's curse will not affect her.    I have told her I will not pay because if I pay the curse will kill me."