By Egufe Yafugborhi
PORT HARCOURT —GOVERNOR Nyesom Wike of Rivers State, yesterday inaugurated 15 new local government  caretaker chairmen with matching orders on them to immediately pay December 2017 to February 2018 pending salaries of council staff.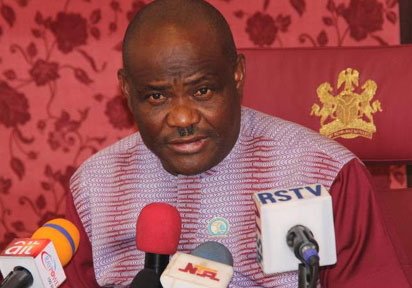 Speaking shortly after swearing in the new LG bosses at the Government House, Port Harcourt, the governor explained that funds were not released to the immediate past council administrators because tenures of the former councils had expired.
"Payment of salaries of workers must be given priority attention.  As you take over the councils, pay the outstanding three months salaries. Don't pay the salaries in batches. We did not release the funds because the tenure of the former councils had expired ."
He urged the urban local government areas to focus on sanitation of different suburbs and engage youths to promote environmental sanitation.
He said, "We are enjoying relative peace across the state. All caretaker committee chairmen should work with the security agencies to ensure there is no security breach."