The three-day Chioma Ajunwa Under-16 Athletics Champioship for Secondary Schools in Abia ended on Thursday, with a call on the nation's budding athletes to shun stimulants and performance-enhancing drugs.
The 1996 Olympic Gold medalist, Chioma Ajunwa-Opara, made the call in her speech at the closing formalities of the  competition, held at the Umuahia Township Stadium.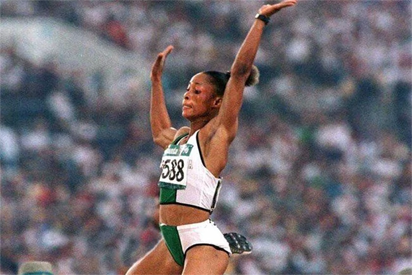 Newsmen report that 34 schools participated in the competition, which was organised by the  Chioma Ajunwa Foundation in conjunction with the Abia government.
The multi-talented athlete, who recalled her ugly experience as a victim of banned drugs, admonished the upcoming athletes in the country to keep away from stimulants, such as Tramadol and Codeine.
She said, "I want to warn you (athletes) to beware of using illicit drugs and stimulants."
She regretted that the consumption of illicit drugs had become rampant among students across the country.
"I am telling you to go away from Tramadol and Codeine so that you do not test positive when you go into a competition because they are performance enhancers.
"Do not used any banned substance. It does not pay but you will  not be aware," she said.
Ajunwa-Opara said that her foundation had been championing the campaign among the nation's youths.
The former Olympic hero expressed the joy that the competition was successful, saying that it would be an annual event in Abia.
She described the state as "a hub of sports talents," saying, "I can see tomorrow's Olympic medalists among these young athletes."
She urged the students to be confident in themselves and not to be restrained by their physic.
"You should not limit yourself because of your height or weight. What matters in life is the talent God has put in you," she said.
Ajunwa-Opara commended the Abia government for partnering the foundation and "allowing us to come to the state to fish out talents that are waiting to be discovered."
She expressed regrets for some of the noticeable hiccups in the organisation of the event and hoped that subsequent editions would be hitch-free.
In his speech, the Commissioner for Sports, Dr. Martins Okoji, described the competition as "unprecedented in the history of Abia."
Okoji said that it was "one in a series of programmes in the championship" designed to help the state to fish out talents.
He said that talents uncovered during the competition would participate in the state sports festival and also represent Abia at the upcoming National Sports Festival in Ilorin.
He expressed satisfaction with the performance of the athletes and organisers.
"The competition has been peaceful, successful and memorable," the commissioner said.
ewsmen report that the athletes competed in three different group and individual sports, including races, long and triple jumps.
NAN