•Says over 300 cattle-rearers occupy two communities in Ughelli LGA
By Dapo Akinrefon, Dep. Regional Editor, South West
Olorogun Moses Taiga is the President General, Urhobo Progress Union, UPU. In this interview, Taiga advocates a return to the 1960 and 1963 constitutions, which he believes would move the country forward. He also bares his mind on the activities of herdsmen in Urhoboland even as he insists that no single inch of Urhoboland land would be allocated for cattle colony.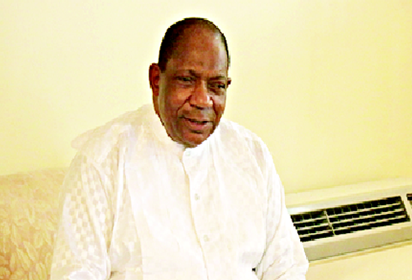 Attacks by herdsmen on their host communities, especially farmers, across the country pose threat to the unity of Nigeria. How can this menace be addressed? 
Nigeria must first look inwards, if it must address the challenge; otherwise we will continue to make noise and, at the end of the day, nothing concrete will come out. It is a critical issue that deserves serious attention from all stakeholders in the Nigeria project. As it is currently, herdsmen activities across the country have raised tensions and our various governments must be very proactive in addressing the issue as soon as possible. We need to go back to the automation system whereby we used rail and trucks to transport cattle to the South. For example, in Sagamu, they used to bring cattle by train and take kolanut to the North through the same means. We need to reactive that. I learned that Ajaokuta-Warri rail line would be commissioned before the end of the year. They are also working on the Lagos-Ibadan rail line. With pockets of such projects, I believe the situation will improve. Besides, the roads are not too bad for trucks to bring cattle down to the South. During Christmas, I used to send people as far as Sokoto to buy cows for me to distribute to my communities, which they bring in trucks. So, we cannot abandon what worked for us before. There are trucks coming to buy diesel and petrol all the way from the North. They are there in Apapa, Warri and Port Harcourt to carry the products up North. So, what is the problem using the rail and roads for cattle transportation? We also need to start planting trees so that we can reclaim the land that has been lost to desertification. Recently, the Economic Intelligent Unit published by the London Economist said that 57 per cent of our arable land is gone. Togo is the worst with 79 per cent. We need to develop land for grazing by planting trees that will create foliage.
Do you agree with the argument that the killer herdsmen are not the real Fulani herdsmen living in the communities, but migrant Bororo who are very elusive to track?
I really don't know whether the attackers are the Bororo or whatever name you call them. Recently, I attended a meeting of Southern Leaders' Conference held in Lagos. And the South-West zone, which has been keeping statistics, noted that up to 2015, there were only about 50 cattle herdsmen's settlements in the region. But suddenly between 2016 and 2017, the figure grew to 127. That is an increment of about three folds in one year. It is possible they have an objective for coming, but we do not know what their objective is. What we do know is that their land in the North has become bare as a result of deforestation. When the land becomes bare, they try to move down South. That is why I am suggesting that the Federal Government should reverse that trend. If at all they have to come with their cattle, they should move them by rail and road. I don't buy the excuse that the attackers are difficult to track. I also don't buy the excuse that they are foreigners from Niger. This is a problem that was not there before and has now become a real problem.
Government seems to be insisting on establishing cattle colony across the country as the best solution to the crisis. Do you subscribe to a cattle colony in Urhoboland?
No inch of Urhoboland will be ceded to any colony. Are there cassava colonies or poultry colonies in the North? Why is the Federal Government segregating and selecting a particular type of people? Cattle-rearing is a private matter and individuals should make their private arrangement, just as crop farmers do, in that regard. Has government established cassava, yam, cocoa or plantain colonies? These squatters are trespassers and have to stop. I am speaking on behalf of my people; no inch of Urhoboland will be ceded to a colony. And I am on the same page with my governor, Ifeanyi Okowa, on this. He has even made a statement on the matter. So, we are speaking with one voice in Delta. I don't know of any other place, but for the Urhobo on whose behalf I am speaking, we are one and united. I want to use this opportunity to inform the Federal Government that Urhobo nation is against the proposed cattle colony and the Urhobo will not cede an inch of their land for the purpose of establishing a cattle colony.
Could you narrate the threat posed to the Urhobo nation by herdsmen and steps you are taking to protect your people?
I am saying this with a heavy heart that the activities of herdsmen in some communities in our land are already creating fears among the locals. In recent times, persistent herdsmen killings across the country have become a problem that demands special attention and I am using this medium to raise the alarm that many atrocities are being perpetrated by armed herdsmen in Urhoboland. The Urhobos in Delta State face a clear and present danger. You would have been reading about the incessant attacks of Urhobo people by Fulani herdsmen in their towns and villages for some time now. Our men are being killed and our wives and daughters are raped. The attacks are going on in Abraka, Uwheru Kingdoms and towns, Ovwor and many other towns and villages in Urhoboland.
Recently, they struck in Ovwor, attacking three men and raping one woman. Ironically one of the men they attacked is a butcher going to his place of work very early in the morning. These herdsmen are very daring and callous. Even a butcher, who patronises them by buying their cows, is not spared of the attacks.
While we call on President Muhammadu Buhari, Governor Ifeanyi Okowa and security agencies to, as a matter of urgency, dislodge herdsmen from the land, I want to state that, at present, over 300 herdsmen are illegally occupying shops in an ultra-modern market not in use between Otovwodo and Ogor towns in Ughelli North Local Government Area. There are fears that the number of the herdsmen might double in no time. As I speak, most Urhobo people live in perpetual anxiety and trepidation in their homeland and the onus is on the security authorities to dislodge these hoodlums before they wreak further havoc. We must not allow the recent disaster in Benue State, where 73 people were killed by herdsmen, to occur in Urhoboland or any other place for that matter, again, in Nigeria.
Do you agree that communities should start arming themselves for self-defense?
Urhobo are peace-loving; we have never been involved in any intertribal war. We are not to arm ourselves to fight back. If we are going to do that, we will not be calling on government to take care of the situation. Urhobo do not think that the solution to the problem is to arm ourselves for war.
What are you telling your people so that they will not be victims of attacks?
Our people are farmers, they grow cassava, they produce yam. Now, they are being told not to go to farm. That is why we are shouting. In the case of Ughelli, some women went to the farm and they were driven back. They have virtually taken over a town called Agadama. So, it is a serious issue. I want to implore my people to be patient. We are crying hard to let the government know that it is not peace as usual and that they need to do something. It is not a one-day affair. We are hoping that the authorities will do the needful. There is already hunger in the land and we must not compound the situation. As we speak, our women can no longer go to farm to produce yams, cassava, and garri, which they bring to market to sell. Government should know that we are close to the precipice and it is very dangerous. They need to make sure that peace comes back to the land because we are peace-loving people.
As the President-General of UPU, you have expressed concern on the effects on your people but the issue cannot be addressed in isolation. How can Nigeria get out of the crisis?
Genuine cattlemen are leading their cattle through farmlands down to the South, destroying the crops along the way because there is no green vegetation for them in the North anymore. As they do this, they are stopping our people from going to farm. The trend portends hunger in the land. There is urgent need for government to stop the hunger. They should stop these people from marching down South. One way to stop it is to start planting trees and provide more irrigation waters. We should also go back to automation. That is, using railway and road to transport cattle to the South rather allowing the Fulani to troop down like an army of occupation.
Like I said earlier, we need to re-examine the old system. There is the need for a return to the 1960 Constitution where regions managed their resources and only contributed a percentage to the Federal Government. That is one of the ways to achieve lasting peace in Nigeria. It will also bring back healthy competition among regions, which helped to speed up growth and development in those days.