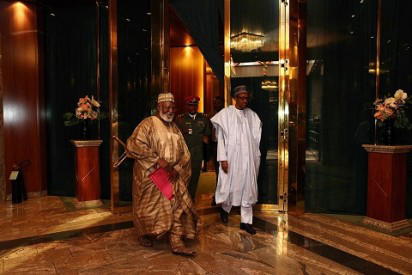 President Buhari receives General (Rted) Abdulsalam Abubakar, Former Head of State at the Statehouse on 18th AUgust 2016
President Muhammadu Buhari on Friday in Kano, attended the grand wedding Fatiha of Alhaji Aliko Dangote's daughter, Hajiya Fatima and her groom, Jamilu Abubakar
The wedding Fatiha between Fatima and Jamilu, son of a former Inspector-General of police, Muhammad Abubakar, took place at 12 noon at the Kano Emir's palace.
Newsmen report that the wedding was conducted by the Emir of Kano, Alhaji Muhammadu Sanusi II and supported by the Chief Imam of Kano, Prof. Sani Zaharaddeen.
Buhari in his capacity as the bride's father received N500, 000 dowry from the representative of the groom at the occasion.
Other important personalities that graced the occasion include former Head of State, retired Gen. Abdulsalam Abubakar, Speaker, the House of Representatives, Mr Yakubu Dogara and a retinue of serving Senators.
Some governors and ministers as well as traditional rulers from across the country also attended the occasion.
Others were former National Security Adviser, retired Gen. Aliyu Gusau, members of the business community, politicians and members of the diplomat corps among others.
The event which was also attended by prominent Islamic scholars and other well wishers from across the country, witnessed a large turnout of workers from various companies owned by the renowned business mogul.
Security at the occasion was water tight as all the entrances leading to the palace were cordoned-off by heavenly armed security operatives.
The development made it impossible for most journalists who turned up to cover the event to do so.
NAN