By Nwafor Sunday
The Nigerian Senate on Tuesday ordered its committee on Police and Judiciary to investigate and report within 48 hours the issues surrounding Dino Melaye, Yahaya Bello and the Nigerian Police.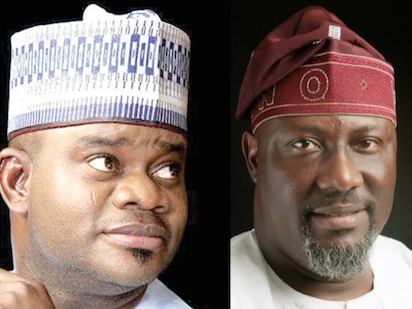 Recall that Senator Dino had last year reported an assassination attempt on his life, fingering Governor Yahaya Bello and Taofiq Isa to be chief plotters.
He equally alleged that the administration of Yahaya Bello with Taofig Isa has brought an unfortunate socio-political paradigm shift in Kogi state.
However, Police on the 19 of March caught and paraded two suspected political thugs with two AK-47 and five pump action guns. They however alleged that Senator Dino Melaye was the one sponsoring them.
A statement Dino denied, saying that it was an orchestrated lie by the governor and the Police to shut him up, and that he had never seen the arrested suspects.
On the 24 of March the Nigerian Police gave Senator Dino Melaye Tuesday (Today) to appear before a Federal High Court, Lokoja, to answer charges of criminal acts levelled against him, saying violation would leave it with no option than to issue warrant of arrest against him.
In view of these therefore, the Nigerian Senate during the Tuesday plenary ordered its committee on Police and Judiciary to investigate and report to it within 48 hours.
See senator's reactions below:
"I have not received any arraignment notice by any Court of the Federal Republic of Nigeria. I have not received any Court summons. The same suspect that was arrested for my assassination is the same person that is claiming I gave him arms and money. "- Senator Dino Melaye
"The Governor of Kogi State has been allowed to do what he wants. This is highly unacceptable, he is making a mockery of our democracy." -Senator Philip Aduda
@SenIsahMisau  speaks of the breakdown of law and order in Kogi State. There is a press statement from the Kogi State Police PRO stating that Senator Dino Melaye should be taken to Court in Kogi State, how can the Kogi State government charge him to court without taking his statement. Thorough investigation should be taken
"These culprits are already being charged to Court for attempted assassination of Senator Dino Melaye, we need to conduct a full scale investigation."- Senator Godswill Akpabio
"What affects any one here affects all of us, the Committee should fully investigate this matter and bring a concise report for us to consider, let us all hold our comments till the end of the investigation and we will then decide what to do at that point.
"The Senate Committee on Police and Judiciary headed by the Judiciary should investigate this issue and get back to the Senate within 48 hours", SP, @bukolasaraki