By Henry Umoru
ABUJA- AS part of moves to ensure that Nigeria as a country was not expelled from the Egmont Group, the Senate, on Wednesday considered and passed the conference committee report on a bill to establish the Nigerian Financial Intelligence Unit, NFIU as an independent entity from the Economic and Financial Crimes Commission, EFCC.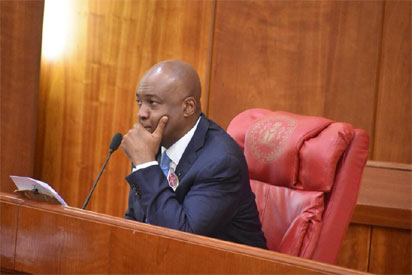 The passage followed the presentation of the Conference report on Nigerian Financial Intelligence Agency( Est, etc.) Bill, 2018(SB.535) by the Chairman, Senate Committee on Anti- Corruption and Financial Crimes, Senator Chukwuka Utazi, PDP, Enugu North and for consideration, but it was later laid.
It will be recalled that Nigeria is currently serving a suspension from Egmont Group, a body of 154 financial intelligence units, FIUs across the world, which provides a platform for the secure exchange of expertise and financial intelligence to combat money laundering and terrorist financing.
It accused Nigeria of sharing confidential information and constant leakage of sensitive intelligence to the media, contrary to global best practices it signed up for.
The NFIU, which represents Nigeria in the Egmont Group, was suspended at its July 2017 meeting in China, following Nigeria's failure to grant operational autonomy to the financial intelligence unit, a situation which the group has objected to for years.
Also recall that the group had threatened to expel Nigeria permanently by March 11 if the Nigerian government failed to grant the unit the autonomy required to become its member.
The Senate and House of Representatives had differed over the passage of the Nigerian Financial Intelligence Agency, NFIA Bill establishing the NFIU as an independent entity.
Senator Utazi had last week raised a point of order, accusing his counterpart in the House of Representatives, Hon. Kayode Oladele of frustrating efforts to expeditiously pass the bill and warned that failure to pass the bill ahead of the next Egmont Group meeting would cause a major economic crisis for the country.
Reacting to the allegation, Hon. Oladele, said he never frustrated the process, and instead accused Senator Utazi of putting off all efforts for them to meet.
Both lawmakers, according to Senator Utazi, however, met on Monday evening and came up with the report.
With the passage, it is now for transmission to the President for assent and if signed, the bill is expected to act as the central body in Nigeria responsible for requesting, receiving, analysing and disseminating financial and other information to all law enforcement and security agencies and other relevant authorities in the country.
Details later…