By Chimaobi Nwaiwu
NNEWI—CATHOLIC Bishop of Nnewi Diocese, Most Rev. Hilary Odili Okeke, has lamented the twin evil and violent activities of herdsmen and Boko Haram insurgents, saying they are promoting rising enemity, violence, insurgency, militancy, murder and wickedness in Nigeria, and warn that if something urgent is not done, the country will be in serious trouble.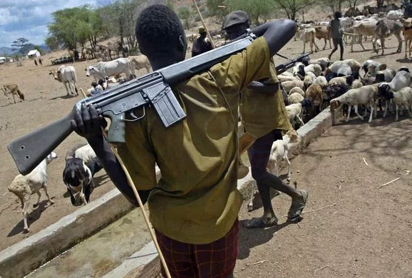 Bishop Okeke also bemoaned militant activities in some parts of the country and the onslaught of armed robbers and kidnappers, whom he said, were not only after money and items but also after human lives.
Speaking with newsmen in his office in Nnewi, Bishop Okeke also lamented what he called rising religious, tribal, sectional and political nepotism and conflict which is the order of the day in the present administration in Nigeria.
Bishop Okeke lambasted those in government for not handling dispassionately, the activities of  herdsmen, religious, tribal, sectional and political nepotism and conflicts that are allegedly predominant in the government in Nigeria.
"In Northern  Nigeria, particularly in the Northeast where Boko Haram is at work, their actions are bearing fruits of enmity, strife, anger, quarrel, dissension, factions and violent destruction of lives and property.
"On the other hand, the  herdsmen are carrying out their own murderous and destructive activities and the lives of cows are becoming more important than that of humans.
"In some parts  of Nigeria, militants are active in the destruction of lives, properties and facilities, while in other parts, kidnappers and armed robbers are at work. It is not only money and items that are their targets but also human lives ."
Lamenting that Nigeria is in a serious trouble with insecurity, Bishop Okeke, regretted that "some people in government seem to be in allegiance with some of the people and groups engaged in insurgency, militancy and mass killing in Nigeria and that explains the reason for the continued insecurity in some parts of Nigeria.
"I appeal to all Nigerians especially those in government to do all that is possible to reduce the violence, killings and destructions in our country. Some government officials are not doing what they should do. It appears that eminent Nigerians only speak against the activities of herdsmen when their state or communities are attacked by them."