By Ayo Onikoyi
West Africa's leading movie distribution company, Blue Pictures has attained milestone as they have broken and made new box office records days after Black Panther was released in Nigeria.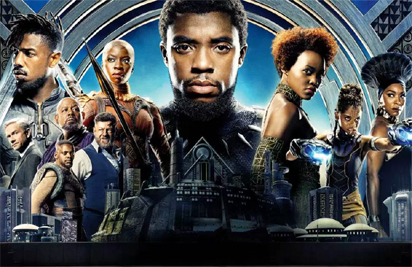 The movie, Black Panther was said to have had the biggest opening of a movie in history recording a whooping sum of N135.4 million in its opening weekend. This means, Black Panther beats the Avengers AOU by 175% thus doubling what the competitive titles performed. Within the opening days, Black Panther went on to become the number 1 all-time weekend opener, best of 2018 so far, Best of February releases, Best Marvel and Disney movie, Best superhero movie among others. This is a feat that has never been achieved before by a singular movie ever in the history.
The movie which was distributed in Cinema nationwide by Blue Pictures now sits as the number 1 biggest movie ever made by Marvel Studios.
Since their launch in 2006, the distribution company has established a good working relationship with independent studios worldwide and distributing movies like "Wonder Women", "Doctor Strange", "Justice League", "Avengers", "AVATAR" all which are among the highest grossing movies ever produced in Hollywood. Black Panther has gone ahead to gross over N600-million Naira since its release in Nigeria and has topped over $1b worldwide. Also, Black Panther has become the second biggest comic book Adaptation behind The Avengers.