By Esther Onyegbula
A 54-year-old traditional birth attendant, simply identified as Aunty Nurse, is currently on the run as a pregnant woman reportedly died in her maternity at Alasia in Ijanikin area of Lagos.
The deceased, identified as Uduak Udoh, was reportedly living with her boyfriend, Victor Ugochukwu, in the neighbourhood for the past three years.
It was gathered that when Victor discovered the mother of one was in labour, he took her to the birth attendant's house. Unfortunately, she died.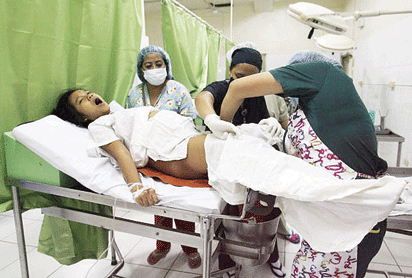 Vanguard gathered that when Aunty Nurse realised that the pregnant woman had died, she took the corpse to Victor Ugochukwu's house, dumped at his door and took off.
A neighbour's account
A neighbour, who lives in the same compound with the birth attendant, noted that though Aunty Nurse is not a registered birth attendant, she has been practising for long in the neighbourhood.
The neighbour added that she has successfully taken delivery of several pregnant women before the incident.
According to the neighbour, "apart from helping women give birth, she also provides treatment for people with malaria and other minor illnesses.
"We don't know what actually happened, but when she discovered that the woman had died, she took her remains to their compound with the help of some neighbours. Since then nobody has since her."
While disclosing that the birth attendant is not married, she noted that "the Police from Ijanikin Police Division came and arrested the landlord of our house; he was later released after they collected N60,000 from him."
Victim's relative
According to a relative of the deceased, Ned Udoh, "her boyfriend, Victor, abducted her about three years ago. We have been looking for her for the past three years.
"No member of our family knows her whereabouts. It was after she died that we were informed about what happened."
The spokesperson, Lagos State Police Command, Chike Oti, who confirmed the incident, said the Police have arrested the boyfriend and the case transferred to State Criminal Investigation and Intelligence Department, CIID, because when the lady's corpse was examined marks of violence were seen on her body.
Oti added: "The Police are currently investigating how those marks were inflicted on her, how she died and what led to her death. Also, efforts are on to arrest the fleeing birth attendant."