By Chris Onuoha
Meeting hospital bills at an emergency health challenge could be emotionally and financially devastating, especially when adequate measures are not put in place to cushion such occurrence. Often times, the stress in meeting the bills could also cause another health risk or lead to death of a patience on emergency. As emergency occurs without notice, preparation should not be taken for granted.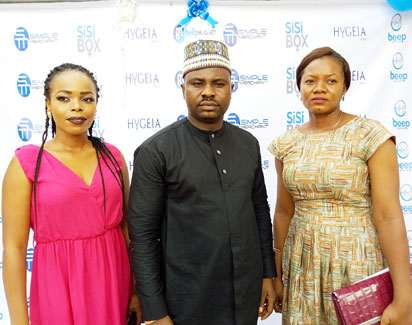 In the light this, a stress free health insurance scheme called BeepHealthcare was unveiled in Lagos at the company's head office, Ikeja last weekend to meet the yearning need of all.
BeepHealthcare scheme comes under the auspice of BeepMagnet International group, a versatile company that has carved a niche in the Crypto-currency platform in Nigeria. With the introduction of healthcare insurance scheme, BeepHealthcare is poised to contribute to the health need of the society through easy and accessible scheme that comes in variances called, SisiBox Scheme, Community Health Management Project and Stem Cell Therapy, all coming under an exclusive Simple Merchant Users discounted card.
The President, BeepMagnet Group, Amb. Gilead Okolonkwo in his remarks during the unveiling disclosed that BeepHealthcare is focused on providing health need of the people through discounted cards that has other benefits.
"Beep Healthcare is an insurance scheme that provides solution. It is not only about you providing solution, but we have actually made it look more like providing health care free for everyone. We must understand that health is wealth and we as an organisation is focused on making this accessible to everyone. The issue of healthcare cover is not only for those who work in big companies.
We are looking at individuals who are entrepreneurs, businessmen and women who are married and looking forward to get pregnant and having children. The health care is actually robust because there are variances that include SisiBox- we know that every woman has a normal monthly call. Under this platform, when you subscribe, you get a box that should take care of your monthly period without having to worry about it. This is more beneficial to students and working ladies who out tight schedule who often forget to have their sanitary box handy. With this scheme, your subscription delivery covers the stress and the box contains other incentives other than the normal sanitary pad.
Another one is annual Community Check Health Scheme. This is one vital scheme that will solve a lot health issues in this country. In this scheme, we will partner with government as it is done in Korea where it works through our research. We found out that through urine, about 70 different kinds of diseases can be detected. Families or hereditary problems can easily be detected and be solved before it escalates through this scheme.
And lastly, BeepHealthcare Insurance Cover. You can see that some terminal illness, such as diabetes, high blood pressure among other illnesses requires huge amount of money to cure. When meeting the bill becomes a problem, then, BeepHealthcare insurance come to aid. We are not only caring for working class but also for unemployed who registers and sign up with the scheme with benefits."
At the Panel of discussion by medical experts during the unveiling, audience were taken to a journey of health talk and risks of not preparing adequately against emergencies. The panelists shed lights on need to be insured under the new cover, explained that information gap is one major challenge many people are having in getting medical help in a simple and accessible way. They explained that Insurance is the key factor for financial planning that covers exigencies over time.