By Samuel Oyadongha
YENAGOA—Barely 72 hours after his release from kidnappers' den, the National Coordinator of pro-All Progressives Congress, APC, campaign group, The New Face, Mr. Robert Desmond, yesterday, relieved his experience, saying he turned into a prayer warrior, seeking God's intervention.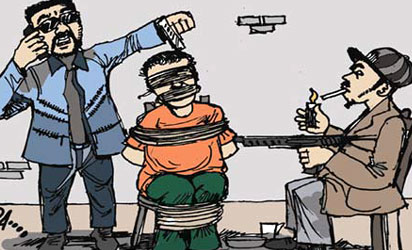 He said he was blindfolded for seven days, but his constant prayers for the kidnappers to state their demands and not kill him kept him alive.
Desmond, who spoke to Vanguard on telephone in Yenagoa, the Bayelsa State capital, said the condition in which he was kept was harsh and traumatic.
He said: "Blindfolded for seven days, I prayed that I should not be killed and that they should contact my family and supporters so as to give them proof that I am alive.
"The condition was very harsh and I will never wish my enemy such. On the day I was released, I heard them mention 5.30a.m. and was moved in a canoe. The canoe capsized, but the water was shallow otherwise I would have drowned."
Desmond, the Youth Secretary of Twon Brass Community and National Coordinator of The New Face, was abducted penultimate Sunday after a social event in Nembe area of the state.
He was, however, released seven days after and dropped off by his abductors at a border town between Bayelsa and Rivers states.