The Athletics Federation of Nigeria (AFN) 3rd Golden League began at the Main Bowl of the Abuja National Stadium on Friday.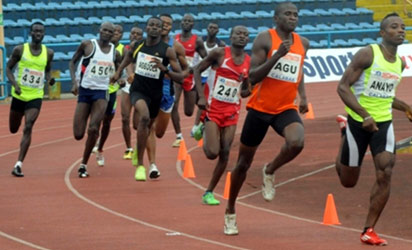 The two-day event, which is scheduled to run between Friday and Saturday is featuring discus, heptathlon, decathlon, pole vault, hammer, steeple chase and triple jump.
Read Also: Anambra tops Patrick Estate Onyedum U-15 athletics championships
Other events are: 4x400m (men and women), 4x100m (men and women), 800m (men and women), 400m (men and woman), 200m (men and women), 100m (men and women), 10,000m (men) and 5000m (women).
In the women's 100m decided on Friday, Ogundiran Blessing of Team B and Asemota Marvelous from Bayelsa did 11.58s and 11.88s respectively to qualify in heat 1.
Blessing surpassed her 12.58 PB and 12.58 SB.
In heat two, Joy Gabriel and Grace Ayemoba clocked 11.80s and 11.82s respectively to move to the next round, while Mercy Ntia-Obong of the Nigeria Customs Service completed the qualification in heat three.
In the men's category, Idjesa Uruemu (10.64s) from Delta, Seye Ogunleye (10.55s), Egwero Ogho-Oghene (10.38) of the Nigeria Security & Civil Defence Corps and Emmanuel Arowolo (10.57s) of the Customs Service qualified from each of the four heats decided at the tournament.
The men and women 200m heats are billed to take place later on Friday.
The AFN had conducted the league in Kaduna on Dec. 1 and 2, 2017, while Port Harcourt, Rivers, was the venue for the second edition on Jan. 27 and 28, 2018. (NAN)