The United Kingdom chapter of All Progressives Congress (APC) has described parents of the Dapchi schoolgirls released from captivity on Wednesday as heroes for keeping fate with the Federal Government.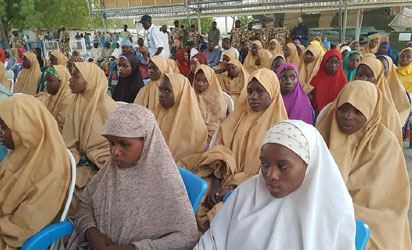 A leader of the party in the U.K, Mr Ade Omole, stated this in a statement by the chapter`s Spokesman, Mr Jacob Ogunseye, while reacting to the release of the girls by their Boko Haram abductors.
"I sincerely commend and congratulate the parents of the girls for their perseverance and support for the Federal Government while the search was on; such support is absolutely praiseworthy and heroic," he said.
No fewer than 110 girls of Government Girls Science Technical College (GGSTC), Dapchi, in Bulabulin Yunusari Local Government Area of Yobe were kidnapped on Feb. 19 from their school by the insurgents.
According to reports, 104 out of girls were released in the early hours of Wednesday by the sect, while one is still being held for reportedly refusing to denounce Christianity. Five of the girls were said to have died.
Omole described the release of the girls as "special and unforgettable'' in the history of Nigeria, saying that it showed that President Muhammadu Buhari-led administration was responsive and sensitive to issues affecting Nigerians.
"It is now crystal clear to Nigerians at home and abroad that we have a government that is resolute and ready to do the needful to rescue its citizens from the claws of Boko Haram," he said.
Omole maintained that Boko Haram represented "a dark age'' and should not be given any space to operate within Nigeria.
He lauded the government for ensuring that the girls were released, but stated that there were opportunities to do better.
"The opportunities should be closely exploited to bring out the best in the governance of the country.''
The party chieftain advised the government to set out a clear rehabilitation programme for the freed girls, adding that security in schools across Nigeria, especially in the North-East, should be reinforced to prevent such experiences.
He commended the Nigerian military for bravery in combating the insurgents and urged them to intensify efforts to ensure that the remaining kidnapped Chibok school girls were rescued.
He also urged the military to take measures to forestall massive abduction of children by the terrorists, saying that it was critical to avoid embarrassment and sending wrong signals to the international community. (NAN)