By Charles Kumolu
THE League of Patriotic Lawyers has hailed Vice President Yemi Osinbajo for saying that the executive would not change its position on the chairmanship of Economic and Financial Crimes Commission, EFCC.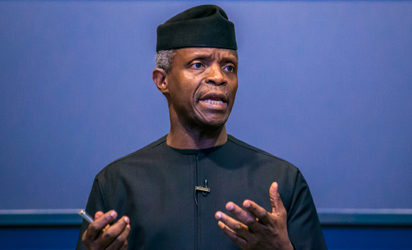 Briefing newsmen in Lagos, Chairman of the group, Mr. Abubakar Yesufu described the Vice President as being consistent with the truth on the matter.
His words: "Ibrahim Magu remains the last man standing despite attempts to intimidate and blackmail him. Magu's credentials remain unblemished and spotless as the cattle egret.  Here is a man who put his in-law, the former Managing Director of Bank of the North, Mallam Bulama on trial, and eventually convicted him.
''Here is a man who has put senior retired and serving military officers on trial for financial crimes. Here is a man who has refused to compromise and demanded justice. "It would be ambitious for anybody to think that he would ever be confirmed when more than 15 senators are on his radar.
"Until more than the 15 cases that abound in our various courts are consolidated and determined, Magu, like the Vice President said remains the EFCC boss, either in an acting capacity or otherwise."