…sacked Buhari's aide cooperating with interrogators
…wife threatens journalists over alleged recovered $9 million
By Soni Daniel
Abuja – There were indications Wednesday night that the Economic and Financial Crimes Commission was not in a hurry to free the embattled former Coordinator of the Presidential Amnesty Programme, Brig-Gen. Paul Boroh,( rtd) over alleged looting of the funds of the agency.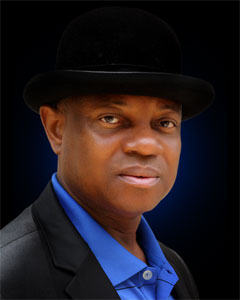 Although a top official of the EFCC confirmed to Vanguard that Mr. Boroh had been cooperating with his interrogators in EFCC custody, the source hinted that the issue of releasing him on administrative or whatever form of bail had not been considered.
Reminded that the suspect had the right to be freed if not charged to court after some time, the official pointed out that the arrest of Mr. Boroh was not undertaken by EFCC alone but in conjunction with the Office of the National Security Adviser based on the directive of the president.
"The former presidential aide is still with us and we are not even discussing the issue of administrative bail for now. The suspect is actively cooperating with our team of interrogators and when we get to the point of bail, we will discuss it," the officer told our correspondent.
The official also declined to comment on the sum of $9 million said to have been recovered from the home of the embattled military officer, who was arrested on Monday by a combine team of ONSA and EFCC from his Gwarinpa home.
"I will not want to comment on the cash issue but what I know is that our men raided Boroh's home and arrested him and he is still talking to our operatives, who are very thorough with him,'' the official said.
Apparently embarrassed by the stupendous amount reported by a section of the media, Mr. Boroh's wife in conjunction with his lawyer has denied that any amount was ever taken from their home when the security officials searched their apartments.
The wife, who addressed a press conference in Abuja on Wednesday, threatened to sue the media houses which carried the 'fake figure' if the report was not withdrawn with apology within two days.
The Spokesman for the EFCC, Mr. Wilson Uwujaren, who had confirmed the arrest of the former presidential aide on Tuesday, however declined comment on Wednesday, saying he was out of Abuja as at the time our correspondent called.
Boroh, who was appointed Special Adviser to the President on Niger Delta Affairs in 2015, has had a turbulent tenure particularly arising from endless petitions written against him by his Ijaw kinsmen over many issues bordering on the operation of the PAP.
Alarmed by the myriad of petitions and the cry of amnesty beneficiaries abroad who alleged that they had not been paid their scholarship and other entitlements, the Presidency ordered the removal of Boroh and the probe of his tenure by the NSA.