By Jimoh Babatunde
Niger- Delta ex-militants and youth leaders have pledged to join Nigeria's leading energy conglomerate, Aiteo Group, in its bid to engender more peaceful coexistence, stop pipeline vandalism, illegal oil bunkering and illegal oil refining in its areas of operation.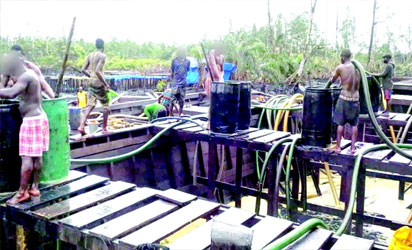 This consensus was reached at a meeting coordinated and hosted by Sobomabo Jackrich, an ex-militant, as a result of the dialogue between him, some other leaders and Aiteo to address issues bordering on surveillance contract and environmental pollution in the creeks, rivers and land within the communities that host Aiteo.
Aiteo assures on compensation
The representative of Aiteo, Tamunokuro Iyalla, said the firm's management is ready to compensate the region if they will stop carrying out illegal refining and illegal bunkering activities.
His words: "Every community that is affected by our pipeline shall have a representative in the surveillance service. Aiteo management will visit each of the communities affected by our operations.
"They will discuss with CDC, the youth wing and provide support where necessary in terms of social amenities and capacity building.
"Aiteo will not fail to settle all bunkering persons or owners of Kpom-fire, if they withdraw from the illegal activities. Let us join hands to fight this economic and environmental sabotage in our communities."
Speaking, Jackrich assured the people that the move was in the interest of everybody.
According to him, "the crude is destroying more than what we are harvesting from our land and the sea. So we must work to bring back the natural state of our environment.
"Though, most of us were once involved in illegal refining and illegal bunkering activities because of our anger over the way and manner the region was marginalised, we have realised that such retaliation was only endangering our communities and the lives of our people."
For Vuva, another former militant, "it will be very bad for us to destroy our own with our hands. Aiteo's approach to tackling issue in the region is definitely different.
"Aiteo methodology is the type that will remedy the environmental degradation of our communities, unlike companies that are owned by strangers."