Abia State Government has entered into a partnership with the 1996 Olympic Gold medalist, Chioma Ajunwa-Opara toward the development of grassroots sports in the state.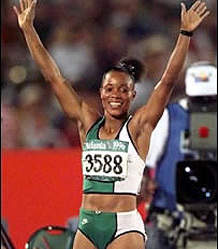 The Commissioner for Sports, Dr. Martins Okoji, made the disclosure in a joint press briefing in Umuahia on Friday.
The commissioner said the partnership was coming at a period the government was exploring avenues to develop and upgrade sports in the state.
Okoji commended the Ajunwa Foundation for organising the 'Chioma Ajunwa Under-16 Athletics Championship for Secondary Schools in Abia.
He said that the event would help to discover sports talents in secondary schools across the state.
According to him, the event is in line with the policy initiative of the government to reposition sports in the state.
Okoji said that Gov. Okezie Ikpeazu was determined to lift Abia to a leading position in sports in the country.
The commissioner commended the president of the foundation, Ajunwa-Opara, for organising the competition.
"This is the beginning of more things to come in the process of sports development in the state," he said.
In her speech, Ajunwa-Opara said that her foundation was into grooming, nurturing and empowering of Nigerian youths to ensure that they excelled in sports.
"We groom them, nurture them and develop their talents in sports and later showcase them to the outside world.
"My reason for coming to Abia is to do the needful, which is to revamp sports in the state," she said, adding that the foundation had been given the mandate to do so.
She said that the three-day competition, slated to begin on March 27, had already taken place in Lagos and was meant to hold across the 36 states of the federation.
Ajunwa-Opara said that the foundation was affiliated to American schools which offered admission to Nigerian students because they believed that they had the potential to excel in sports.
She said that she would use the foundation to revive the American interest in Nigerian students which, according to her, waned over the years.
The former long-jump Olympic hero said that aside from sports development, the foundation was embarking on an anti-drug campaign in schools.
She regretted that the use of illicit drugs, especially tramadol, had become rampant in most schools in the country.
"We are embarking on the campaign against the use of illicit drugs in schools to arrest the phenomenon," Ajunwa-Opara said.
She recalled that she was a victim of the use of illicit drug and would not want the youths to suffer the same fate.
The Director-General of the foundation and former Nigerian athlete, Henry Amike, who accompanied Ajunwa-Opara to the briefing, said that outstanding athletes would receive 'mouthwatering' cash prizes at the end of the competition.
NAN