By Soni Daniel & Emmanuel Elebeke
The wife of the embattled former Special Assistant to the President on Niger Delta and Coordinator of Amnesty Programme, Brig. Gen. Paul Boroh(retd) has dismissed the report in the media claiming that the operatives of the Economic and Financial Crime Commission (EFCC) and Office of the National Security Adviser (ONSA) discovered $9million cash at his residence.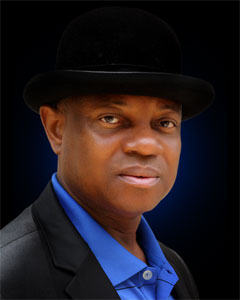 Just as there was indication last night that EFCC was not in a hurry to free Brig-Gen. Paul Boroh,( rtd) over alleged looting of the funds of the agency.
Although a top official of the EFCC confirmed to Vanguard that Mr. Boroh had been cooperating with his interrogators in EFCC custody, the source hinted that the issue of releasing him on administrative or whatever form of bail had not been considered.
Addressing the press yesterday, Mrs. Ibinye Boroh said no cash was discovered, describing reports in the media as fabrication of lies, false and malicious and calculated attempt to mislead the public.
Her words: "My attention has been drawn to the publication in some of the Nigerian media   to the effect that $9million was recovered by the operatives of the EFCC from our house and premises in the course of their search.
"This is  to inform the general public that no cash was discovered and could not have been discovered by government operatives during their  search in our house last Monday.
"The publication by a section of the press stating the contrary is fabricated, false in its entirety, malicious and calculated to mislead the public.
"Our family feels embarrassed and harassed and therefore request the authors to retract same."
On whether her house was search, she said: "My house was searched by government operatives and my door was broken an ransacked. But I do not know whether if they were EFCC or NSA agents."
Also addressing the media on the matter, the legal adviser to Gen. Boroh, Chief Olusola Oke, also faulted the media reports, insisting that no money was found in the home of his client.
He demanded immediate retraction of the reports by all the media that reported same.
His words: "I am speaking to you on the instruction of my client, Gen. Boroh."