By Ikechukwu Nnochiri
ABUJA— Attorney-General of the Federation and Minister of Justice, Mr.   Abubakar Malami, SAN, yesterday, accused the National Assembly of resorting to threats and intimidations, in a bid to force the judiciary to support its move to re-order the sequence for the 2019 general election.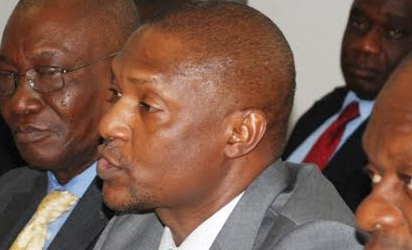 Malami, who personally appeared before the Federal High Court in Abuja for hearing of the suit  filed by the Accord Party, berated the Senate, describing its response to the order the court made to preserve the Res (subject matter) of the case as "a sad development."
The AGF tackled the Senate after counsel to NASS, which is the 1st defendant in the matter, Mr. J. B. Daudu, SAN, drew attention of the judge to the furore he said the preservative order the court made on March 14, generated in both national and international media.
Daudu insisted that the court order, which stopped the NASS from taking further action on the Electoral Act (Amendment) Bill, 2018, that President Muhammadu Buhari declined to assent to, "has once again, placed the judiciary in the eye of the storm."
He made the assertion while responding to remarks by counsel to the plaintiff, Chief Wole Olanipekun, SAN, who decried that decision of the court to protect the subject matter of the case his client brought before it by asking all the parties to maintain the status quo, was grossly misconstrued "in some quarters."
Olanipekun said: "What happened in this court on March 14 was that though the plaintiff's counsel applied for a preservative order in form of some injunctive reliefs, the court, in its wisdom, simply ruled and held that parties should maintain status quo antebellum.
"Unfortunately my lord, this has been misinterpreted in diverse and several quarters, including the 1st defendant, as the court preventing it from carrying out its legislative duties."
Apparently displeased with choice of words by counsel to NASS, the AGF who was sued as the 2nd defendant in the matter, urged the court not to allow itself to be intimidated, saying his office would support the judiciary to discharge its constitutional duties.
On his part, counsel to  Independent National Electoral Commission, INEC, Mr. Femi Falana, SAN, while acknowledging need for the matter to be granted accelerated hearing, urged Justice Mohammed to ignore developments outside  the court proceedings.
Meanwhile, in a bench ruling yesterday, Justice Mohammed refused an application the Action Peoples Party, APP, filed to be joined as an interested party in the suit.
Though the court noted that APP, being a registered political party, had a valid interest in the matter, it, however, held that the suit could be effectively decided without its input.