……as APP files joinder-application, urges NASS to override Buhari
By Ikechukwu Nnochiri
ABUJA – The Abuja Division of the Federal High Court has ordered that the Attorney General of the Federation and Minister of Justice, Mr. Abubakar Malami, SAN, be served with processes in the suit challenging the powers of the National Assembly to re-order the sequence for the 2019 general elections.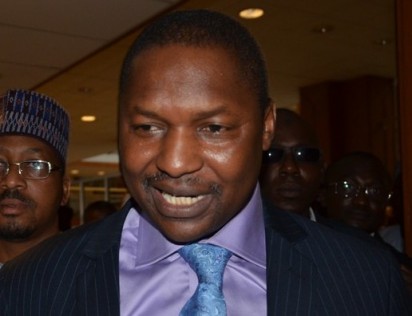 Justice Ahmed Mohammed equally directed that the AGF be served with hearing notice to ensure his appearance in court on Tuesday when legal fireworks will commence on dispute surrounding the Electoral Act (Amendment) Bill, 2018, which President Muhammadu Buhari declined to assent to.
It will be recalled that the court had last week Wednesday, halted moves by both the Senate and the House of Representatives to kick-start the process of passing the Electoral Bill that was vetoed by President Buhari, into law, through a two-third majority vote.
The high court ordered all the parties to maintain status quo antebellum to enable it look into a suit that was lodged before it by Accord Party.
Justice Mohammed said he had to invoke section 6(6) of the Constitution to restrain the parties, having considered the possibility that the NASS could activate its powers under section 58(5) of the Constitution and commence the process of securing two-third majority it would require to override President Buhari's refusal to assent to the Bill, while the suit is pending before the court.
He said the court was empowered by the constitution to protect the Res (subject matter) of the suit before it.
Specifically, the plaintiff, in its suit marked FHC/ABJ/CS/232/2018, is praying the court to set aside Clause 25 of the Electoral Act Amendment Bill, 2018.
Accord Party, through its lead counsel, Chief Wole Olanipekun, SAN, argued that the Clause was in conflict, has interfered, as well as curtailed the power, right and discretion of the Independent National Electoral Commission, INEC, in respect of the schedule or sequence of the next general election.