Pray for my son-in-law—Okorocha
Imo LGA election to hold in June
By Chidi Nkwopara & Chinonso Alozie
OWERRI—GOVERNOR Rochas Okorocha yesterday, received bashing from his former commissioner for Information and Strategy, Dr. Theodore Ekechi, for endorsing his son in-law, Chief Uche Nwosu, as his successor.
Ekechi described Okorocha's move as "anachronistic, unhealthy, unacceptable and a serious threat to the development and growth of All Progressives Congress, APC, in Imo State."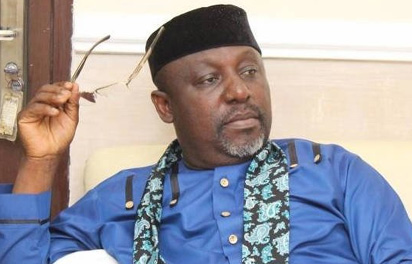 The former commissioner made his feelings known yesterday, while fielding questions from journalists in Owerri.
He reminded his former boss that "the endorsement of his son- in-law will definitely reduce the chance of the APC in the forthcoming general elections."
"There are more intellectually endowed and vibrant personalities in the state, who are more qualified to be endorsed than his son in-law," he said.
Ekechi however called for the restoration of the zoning formula in the state for equity, justice, fair play and development, stressing that Orlu Zone has ruled the state now, for 16 years.
Pray for my son-in-law—Okorocha 
Meanwhile, in what appears to be a response to the lash-out by APC loyalist, Okorocha, yesterday, urged the people of the state, not to relent in praying for his son-in-law, Mr. Uche Nwosu.
Okorocha through his Chief Press Secretary, Mr. Sam Onwuemeodo, to newsmen in Owerri,   was vividly reacting to a report that he (Okorocha) has withdrawn his endorsement for Nwosu, to succeed him in 2019.
Okorocha said that Nwosu merited the qualities to be the next governor, and that his support would remain unshakeable, advising people "to disregard that statement and continue to work and pray for Uche Nwosu."
Imo LGA election to hold in June
The governor also  revealed that the state will conduct it's local government election in the month of June, this year.
Okorocha's message came after about eight years, without elected local government chairmen in the state, as released to newsmen in Owerri, by his Chief Pressure Secretary, Mr. Sam Onwuemeodo.
He said: "Governor Rochas Okorocha has said that the State would Conduct the Local Government election in June, 2018 to elect Local Government Chairmen and Councillors."
However, the governor requested that, "The State House of Assembly should   tidy up the Local Government laws without delay for the June election."
Commentiing on the issue of endorsement of President Mohammadu Buhari and his son-in-law, Mr Uche Nwosu, he said: "the endorsements given to President Buhari for 2019 in the State and that of Uche Nwosu for the governorship in the State stand, challenging those opposed to the endorsements to present their own aspirants or Candidates if they think they have better options."
Okorocha promised that ,"The APC Primary in Imo is going to be very transparent. It is going to be open. The world will be made to watch it. There will be no short-cut.
"Anybody who wins the Primary be