As examination begins tomorrow
Says, no malpractice without JAMB officials' connivance
Laments 300,000 applicants' registration denial
By Dayo Adesulu
AS the Joint Admissions and Matriculation Board, JAMB, commences the conduct of 2018 Unified Tertiary and Matriculation Examinations, UTME, tomorrow, the Association of Tutorial School Operators, ATSO, in Nigeria has faulted claims by the JAMB Registrar, Professor Isaq Oloyede on candidates' registration and the Association.
It lamented that while Oloyede claims to be assisting the candidates, he has indirectly denied over 300,000 applicants the chance of registering in the ongoing UTME examinations.
Speaking exlusively with Vanguard Learning, the President, Association of Tutorial School Operators, Comrade Sodunke Oludotun specifically faulted Professor Oloyede's claims in his interview with the Sunday Punch.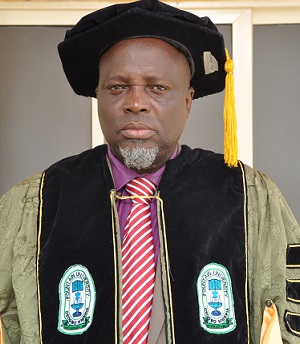 He said: "Ordinarily, this rebuttal wouldn't have been necessary because we at the Association of Tutorial School Operators, ATSO, wouldn't want to join issues with JAMB registrar, but we realized that calculated and uncontroverted falsehoods and misrepresentations have a way of assuming a life of their own and we also realised that it is easier for Nigerian policymakers, especially those who have betrayed the mandate reposed in them, to splash mud on the integrity of others in order to hide the failure of their policies or to gain undue advantage.
"They prefer to leave the message and attack the messenger. We will respond to each falsehood that emanated from the registrar in the interview he granted to the Punch Newspaper as follows:
JAMB Registrar: This year, we allowed free generation of profile codes
 "This is a blatant barefaced falsehood. Every candidate that generated profile code did so via SMS and had the sum of N50 deducted from his or her credit balance. It is not a secret that telecommunication companies charge N4 per SMS. I guess the N46 balance per SMS unaccounted for is so inconsequential to the JAMB registrar but of great value to the candidates and their poor parents.
"According to JAMB, about 1.9 million candidates successfully generated profile code for the 2018 UTME. Based on this statistics, it simply means JAMB raked in more than N87.4 million from just profile code generation. One then wonders why the registrar was chest-thumping that the profile code generation was free. Was he trying to play to the gallery or hoodwink unsuspecting Nigerians? If not, can he kindly state publicly what the charges were for?"
JAMB Registrar: Now we have 1,973,081 who have generated codes which is higher than last year's…. The number of those who actually paid is 1,662,778 who are those who bought the PIN for UTME
"What would then account for the 300,000 difference between those who generated profile codes and those who actually paid for PIN? Are we supposed to assume that those who generated profile codes simply lost interest in the exam and refuse to proceed to registration stage? This assertion by the registrar simply corroborates our earlier stand that a whopping 300,000 applicants were denied the opportunity of registering for this year's UTME when JAMB suddenly shut down the registration portal.
ATSO is the closest body to the applicants and we know for a fact that most of the applicants were still engrossed in one admission process or the other well into the month of February. When all hope of being admitted was dashed, they rushed to register, only for the door to be violently slammed in their face and their hopes and aspirations dashed the second time."
JAMB Registrar: This year, we said let us have two months for the registration. But for the first one month this year, we registered less than five per cent. So, all 95 per cent took place in the last one month, so when it was two or three days to the end, there was pressure on us and we extended
"If JAMB and its registrar are research-oriented, they would have made attempts to find out why only a meager five per cent of candidates registered in the first month while 95 per cent preferred to rush to register in the last couple of days. If JAMB and its registrar were not totally disconnected from the grassroots, they would have realised that majority of candidates who wrote the 2017 UTME and who constituted the bulk of applicants for the UTME 2018 wouldn't have had time to register for another exam when they were still battling to secure admission in the 2017 process.
"It only dawned on them that they wouldn't be admitted when most of the institutions matriculated the few candidates they admitted. It is in the public domain that most of the tertiary institutions conducted their admission far beyond JAMB deadline of January 25.
Panic and confusion
As we have stated earlier, they rushed down in panic and confusion to the few and far CBT centers. It was easy to generate codes but before they could register, the portal was shut. But of course, the registrar might not be aware of this fact, he is elitist, he only knows what is going down in the highbrow Abuja metropolis. If he got regular feedback from his handpicked CBT centers, he would have been aware that hundreds of applicants spent several days at the CBT centers from 7am to 6pm before some of them could be lucky enough to get registered, and yet, most couldn't register within the window."
 JAMB Registrar: Some fraudsters under the Association of Tutorial Classes extort money from parents looking for original questions and claiming they would assist the candidates. But this year, because they failed and failed woefully in their illicit practices, they are looking for rooms for those candidates they promised manipulations to disrupt our activities
"We are disappointed that a government official of the pedigree of our JAMB registrar, who had served in the highest office in a reputable tertiary institution (UNILORIN) and who currently serves in the foremost admission board in Nigeria could resort to rumours, half-truths and conjectures. If he had concrete evidence that some people engage in examination malpractice, what stops him from handing the evidence at his disposal to the security agencies so that those saboteurs can be brought to book? Of particular interest is this statement credited to the registrar "But this year, because they failed and failed woefully in their illicit practices…"
Does it mean that those "fraudsters" had been having their way before this year? Have they been having unbridled access to "original" UTME "questions" before now? It is high time the board invited security agencies to investigate how UTME questions got to the hands of "fraudsters" before the present JAMB registrar sanitised the system.
Meanwhile, let us remind the registrar that there is no association registered in Nigeria that is called 'Association of Tutorial Classes.' A visit to the office of the Corporate Affairs Commission, CAC, would have prevented this unforced error. ''
JAMB Registrar: We have their files with us here and we are going to hand over all of them to the security agencies. They are professional blackmailers
Such files should have been in the custody of the police by now sir, if the registrar and the board have nothing to hide. No measure is too much to sanitise the admission process, but we doubt if the registrar will hand over the files he professed to be in his custody to the security agencies because he knows it might lead the security agencies back to the doorsteps of JAMB itself. No malpractice can be successfully perpetrated at any stage of UTME process without collusion or conspiracy between the perpetrators and JAMB officials.
The Association of Tutorial School Operators, ATSO, has compiled its own files and dossiers on the happenings and stakeholders in the educational sector, including JAMB and it would release them in due course. We hereby reiterate again that the tutorial school operators whom the JAMB Registrar is battling so hard to malign and vilify accounts for the training, counselling and orientation of more than 65 per cent of UTME candidates every year. Our products constitute not less than 55 per cent of admitted students to tertiary institutions every year, most of whom had given or currently giving a good account of themselves in their respective courses of study. Who knows, the JAMB Registrar himself might have benefitted from one form or the other of continuous education in the past before getting to the summit of his career?
"Yes! we acknowledge the fact that the current Registrar, Professor Oloyede has brought in innovations since he mounted the saddle of leadership at JAMB, but it is obvious that his major preoccupation has been how to generate humongous revenue for the government even if such drive results in further impoverishing the already poverty stricken parents.
At every turn in the admission process, candidates are made to pay through their noses.
"They pay N50 for profile generation, N6,200 for the main registration, N2,500 for the correction of every error committed, N2,500 for change of course/institution, N1,000 to print out what they call Original JAMB Result Slip, N1,000 to print out Admission letter, and other myriad charges in between. Why is JAMB bent on killing the parents financially and demoralising the candidates on the altar of revenue generation? Is the statutory role of JAMB revenue generation? When has JAMB become Federal Inland Revenue Service (FIRS)?
"With the imperialistic manner the JAMB Registrar is handling the issue of UTME and the admission process in general; one wonders if his tendencies won't be tantamount to making education Haram (taboo) to Nigerian students. If he doesn't step down from his high horse and get in touch with realities at the grassroots, especially as it affects hapless Nigerian students and their poor parents, we might witness the metamorphosis of JAMB into a mild form of BOKO HARAM discouraging students from education, the exact opposite of its statutory mandate."
Subscribe for latest Videos