By Dapo Akinrefon
Abeokuta—THE Alake of Egbaland, Oba  Adedotun Gbadebo, has urged all Yoruba sons and daughters to use the language to promote culture and tradition of the race.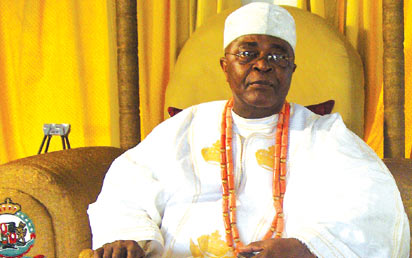 Speaking at the 2018 edition of the Olumo festival which was organized by the Olokun Festival Foundation in Ikija, Abeokuta, Ogun State, Oba Gbadebo, said the promotion of the Yoruba language is vital to the development of the race.
He said: "It is very important for us as a race to revive our culture and tradition. What we are doing today is to celebrate Lisabi who was our progenitor, and at the same time, promote our culture and tradition.
"So I think we can always promote our culture and tradition by speaking the Yoruba language regularly to our children."
The monarch, who commended the Aare Onakakanfo of Yorubaland, Aare Gani Adams, for using his financial and human resources in promoting the culture and tradition of the Yoruba race across the south west urged him not to relent in his efforts to make Yoruba land a great race to be reckoned with in the world.
In his remarks, Aare Adams, who is also the Chief promoter of the Olokun Festival Foundation, expressed concern on the way the Yoruba treat their language.
Adams said: "The way we handle our language is not too good for us as a race, our language is supposed to be our identity, it is our pride and it is the greatest weapon of security for us a people."
"As a culture activist, Chief promoter of the Yoruba culture and tradition, and founder of the Oodua Progressive Union, OPU, it saddens my heart that the Yoruba, with huge population of over 250 million people all over the world, is presently finding it difficult to take its pride of place in the world", he added.