By Gabriel Enogholase & Bashir Bello
KATSINA—Operatives of the National Drug Law Enforcement Agency, NDLEA in Katsina State have arrested a 19-year-old girl, Zakiya Abdukarim, with illicit drugs stocked in her brassiere and other parts of her body.
Also a  Geophysics graduate , Mr. Iredia Austin,  was arrested by officials of the Edo State Command of the National Drug Law Enforcement Agency, NDLEA, for being in possession of 82 bags of Indian hemp weighing over 762kgs.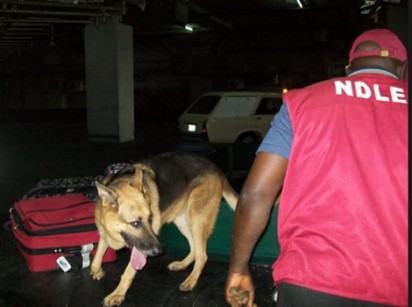 The Katsina State Commander, NDLEA, Mrs. Maryam Sani, who confirmed the arrest of the 19-year-old girl, said she was arrested in Sokoto Rima River Basin area of the state with the drugs meant for sale to her clients.
Sani added that the girl ran away from her village to stay with her boyfriend under the pretext that her step-father and mother wanted to give her out in marriage without her consent.
The NDLEA boss gave the quantity of illicit drugs found in possession of the teenage girl to be 14.4grams of Tramadol, 14.8grams of Exol-5 and 2.4grams of D5.
Interacting with the teenage girl, she said her boyfriend, Abdulsalam, asked her to keep the drugs in her possession that he forgot something at home and he needed to pick it up.
"The drugs are for my boyfriend, Abdulsalam. I met him around the motor park here in Katsina where he sells the drugs.
"I am from Tantagaria village on your way to Bakiya. I sell rice and beans.
"On that day, he (my boyfriend) told me to keep the drugs that he forgot something that he needed to pick up at home. He fled the house after I was arrested. They found three drugs with me. I don't know the names of the drugs. I don't take it," the teenage girl, Zakiya Abdulkarim stated.
On the arrest of the graduate, Edo State Commander of the NDLEA, Mr. Buba Wakawa,  in a statement in Benin,  disclosed that the hard drug was discovered inside the ceiling of his house at Ohiomah Street, Iyeu Otuo in Owan East Local Government Area of the state.
Meanwhile, the suspect in his statement said that he bought the drugs for sale in order to get enough money to sponsor his Master's Degree programme.
The suspect during interrogation claimed ownership of the drugs saying that this is the largest quantity of drugs he has purchased in a single transaction.
He said: "I studied Geophysics at Ambrose Ali University Ekpoma and completed my National Youth Service Corps, NYSC, in January 2018. I started selling cannabis in 2011 when I gained admission into the university. This is because I have no one to help me financially.
"After my graduation, I stopped selling cannabis but the temptation arose when I purchased form for my Master's Degree programme at the University of Port Harcourt."