…promises to give succour to IDPs in North-East
By Gabriel Ewepu
ABUJA- A non-governmental organisation, Complete Care and Aid Foundation, CCAF, has called on the Federal Government to urgently overhaul security network in the North-East Region of the country.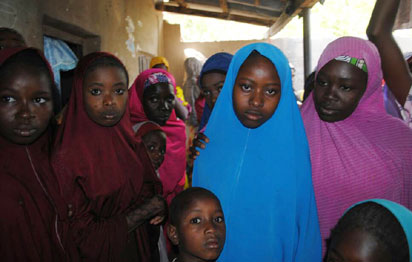 This was contained in a statement signed by the Chairman, CCAF, Abuja chapter, Alh. Yusuf Danladi Musa, who said they have been worried by the new wave of attacks by Boko Haram terrorists. Recently 110 female students of Government Girls Secondary,  Dapchi, Yobe State were kidnapped.
Musa said his organisation sympathises with the affected parents, and join faith with them for the release of their daughters in no distant time.
According to him, it has become obvious and necessary for critical review and reorganisation of strategy in the fight against the Boko Haram terrorists who seem to be applying new strategy in maneuvering the entire security network of the government based on attacks launched on soft targets, resulting in attendant loss of innocent lives and property.
The Complete Care and Aids Foundation is a non-governmental organisation,  set up by concerned Nigerians to provide care and support for people displaced by communal crises, refugees in IDP camps, sick persons, drug addicts, child abuse victims and de-radicalisation of members of terrorist groups that have been rescued by the government, among others. It will also in April 2018, inaugurate its Abuja chapter to pursue its vision and mission in accordance with set objectives.
He said: "Complete Care and Aid Foundation, CCAF, is pained with the way Boko Haram terrorists are launching attacks and killing innocent Nigerians, especially in the North-East Region of recent.
"The latest was the kidnap of 110 female students of Government Girls Secondary School, Dapchi, Yobe State, and killing of Nigerians in some parts of the North-East Region of the country. It is worrisome and alarming.
"The recent attacks on the Internally Displaced Persons' camp in Rann, Borno State, where some security operatives were killed alongside a medical doctor who was providing care to refugees living in those camps. We condemn it in strong terms.
"These attacks on schools and Internally Displaced Persons' camps have become a recurring decimal despite the huge resources being expended by the government to improve security of lives and property in the affected areas.
"President Muhammadu Buhari should urgently overhaul the entire security network in the country, particularly the North-East zone which is prone to Boko Haram attacks."
He noted that the strategy by Boko Haram is to provoke the sensibility of Nigerians against the government and create more tension to achieve their purpose of destablising the effort of government.
"These terrorists' strategies are meant to strike fear in the minds of the people so as to make them lose confidence in the capability of the security forces and the Federal Government's ability to protect them against attacks and this must not be allowed to continue unchecked", he said.
Meanwhile, he disclosed that the Foundation will soon embark on a tour of IDP camps both in the Federal Capital Territory, FCT, and other flash points with communal clashes in Benue, Taraba and Adamawa states to provide succour to refugees living in those camps.