… Vow to mobilise over 10 million brethren to occupy FCT
By Luminous Jannamike
ABUJA – No fewer than 10,000 members of the Islamic Movement of Nigeria (IMN) also known as Shi'a Muslims, on Wednesday, stormed the National Assembly to compel federal lawmakers to speak-up against what they described as 'tyrannical government of President Muhammadu Buhari' which has manifested in the continued detention of their leader, Sheikh El-Zakzaky.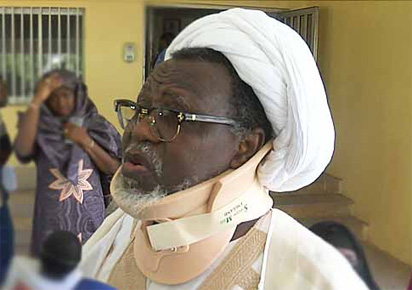 The group also expressed concern over El-Zakzaky's health; saying it was pertinent that the lawmakers directed the Presidency to release him unconditionally to seek proper medical attention.
Speaking during the protest, the secretary Academic Forum of IMN, Abdullahi Ahmed Musa, said members of the group are ready to die for the sake of ensuring El-Zakzaky is free from detention. He also disclosed that the group will mobilise over 10 million of its members from all over the country to occupy the Federal Capital Territory (FCT)
His words: "The status quo of the present day Nigerian is underscored by the fact that the country is trapped in vicious circle of misgovernance.
"Sheikh El-Zakzaky was attacked in his house, at age 65, the humble cleric together with his wife were shot severally at close-range, and brutally tortured by the Army before handing them over to the Department of State Services (DSS).
"We are deeply concerned about the health of our incarcerated leader and we believe that it is necessary that the National Assembly compel those holding him to release him unconditionally to enable him seek for proper medication.
"We will not stop protesting and challenging this tyrannical government and the tyrants ruling it until Sheikh El-Zakzaky is free from this tyrannical detention. They have murdered over 1,000 of our members, and we are ready to mobiles over 10 million of our members to occupy Abuja, if nothing is done to ensure the his speedy release. We are all ready to die for the sake of our leader. We are not free without the freedom of Sheikh Zakzaky, his wife Zeenah and all Nigerians that are detained on the basis of oppression."
The Shi'a Muslims were received at the National Assembly by Senator Kabir Gaya on behalf of the Senate President, Bukola Saraki, who promised to ensure both chambers of the National Assembly set up committees to look into their grievances.
Subscribe for latest Videos