….our people adequately sensitized, compensation process on
The Governor of Kogi State, Yahaya Bello, Friday, disclosed that the State has commenced cattle ranches on 15, 000 hectares of land in two local government areas.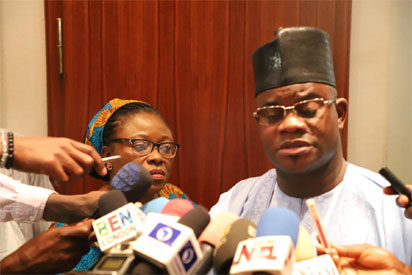 Bello stated this during his official visit to the Minister of Agriculture and Rural Development, Chief Audu Ogbeh, in Abuja, where he delivered a letter to that effect.
According to him the two local government areas are Ajaokuta and Adavi. Ajaokuta gave 10, 000 hectares, while Adavi gave 5, 000 hectares of land.
He maintained that the government has done effective sensitization of the people in the State, therefore they have keyed into the programme, and many other local government areas will soon be part of it give their lands for cattle ranches.
He also stated that the ranches were a pilot project, and that the Fulani herdsmen will be brought into the two ranches over a period of time since there was no Anti-Grazing Law enacted by the State.
Details later