By Dirisu Yakubu
ONE of the sundry  groups drumming support for the Peoples Democratic Party (PDP), the PDP Youth Vanguard has said that the groupwould organise a ten-million man march nationwide to protest against the mindless killings recorded in some parts of the country a few weeks ago, amongst sundry ills plaguing the Nigerian state.
The group argued that the ruling All Progressives Congress (APC)  rode on the wings of anti-corruption to power, but regrettably engaged in a selective anti-graft war involving members of the PDP like former Jigawa State Governor, Sule Lamido, ex-Federal Capital Territory Minister, Bala Mohammed and Chief Raymond Dokpesi .
At a press conference at the party's national secretariat in Abuja, national coordinator of the group, Ibrahim Bala Aboki, called on government to accord the party some respect even as it condemned the handling of the trial of its immediate past National Publicity Secretary, Olisa Metuh.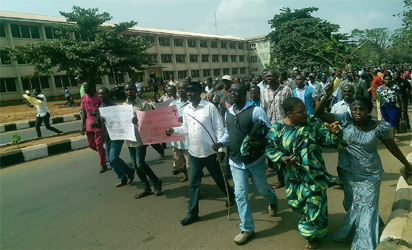 He said that  Dr. Goodluck Jonathan deserved huge respect for ensuring smooth transition in 2015.  "Every right thinking Nigerian and members of the international community have applauded the modest disposition of the former President for conceding defeat to the APC even before the last count of the election results.
"The PDP National Youth Vanguard in collaboration with all PDP-friendly NGOs and Civil Society Organizations have scheduled to hold a 10-million man march to protest the lackadaisical attitude of the APC government to the killings across the country, nepotism, hunger and starvation, resurgence of long queues in our filling stations and the obvious persecution of opposition leaders/political parties by the APC government in the name of fighting corruption," Aboki said.
"We are astonished to watch the so called fight against corruption by the ruling APC. While many leaders and members of the PDP are in different courts on account of several frivolous charges of corruption, President Buhari is cohabiting and pardoning all members of his cabinet that are involved in illegalities.
"The case of the former Secretary to the Government of the Federation (SGF), Mr. Babachir Lawal is still very fresh in our memory. He was indicted by Senate Committee on two occasions but President Buhari in a letter signed by him, cleared Babachir of all charges without allowing the Security Agencies to investigate and prosecute him in line with the constitution of Nigeria.
"The same President Buhari after several showdowns from the Senate reluctantly set up a commission of inquiry, chaired by the Vice President, Yemi Osinbajo, to investigate Babachir and the money found at Osborne Road, Ikoyi, Lagos. The committee sat, investigated and came up with recommendations, but it took the President more than three months to comply with the recommendations of this Committee," it added.
Subscribe for latest Videos